That's Shanghai takes a look at some of the best upcoming F&B events:

---
Sep 4-8: Arnd Henning Heissen at The Portman Ritz-Carlton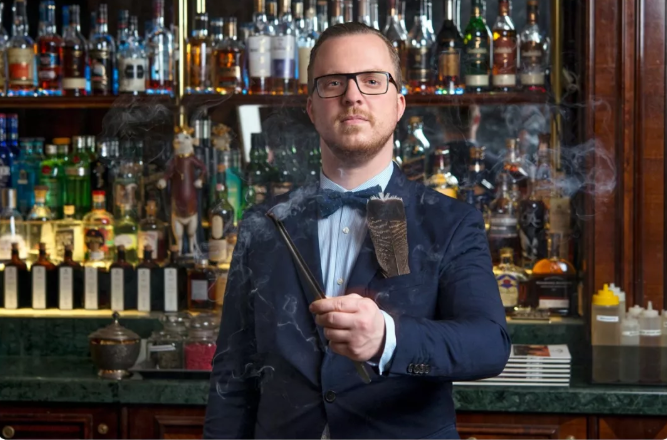 Image courtesy of the Ritz Bar & Lounge
The award-winning bar manager comes all the way from Germany to delight guests at the Ritz Bar & Lounge. He'll be behind the bar telling stories via six creative classics or 'liquid sculptures' (his words) from the menu at The Curtain Club, which he manages in Berlin. Get ready to be swept up on an enchanting journey for all your senses by this master of aromas and colors.

Sep 4-8, 7pm-late. The Ritz Bar & Lounge, see event listing.
---
Sep 5: Meet Brewdog Founder and Head Brewer


Image courtesy of The Hop Project
Brewdog co-founder and master brewer Martin Dickie heads to the Hop Project in this exclusive meet and greet. Dickie has continually pushed the boundaries of brewing in the UK with styles and flavors inspired by beers across the world. Have the privilege of trying up to six of his Brewdog beers, the new "Mallow Mafia" (a massive 12% brew) Coffee and Chocolate and Marshmallow Russian Imperial Stout!
Sep 5, 7pm. The Hop Project, see event listing.
---
Sep 6: Shake x Peddlers Gin: Botanicals Month Closing Party

Image courtesy of Shake
The successful month-long collaboration between Shake and Peddlers Gin is culminating with a guest shift to meet-and-greet the distillers! For one night only and all night long, enjoy all of Peddlers Gin & Tonics for only RMB40. Signature drink options include but not limited to Pineapple Turbulence, Sunset Buddha and The Seagulls of Lemon Island. The night will also include a wild live show Shake's house band with a special appearance by Redic.
Sep 6, from RMB40, 6pm-late. Shake, see event listing.
---
Sept 6-9, 12-16: Franziskaner Oktoberfest 2018

Image courtesy of promoter

Oktoberfest is fast approaching. And you know what that means: lots of beer, meat and parties. If you want to celebrate with the best of 'em, head over to the 2018 Franziskaner Shanghai Oktoberfest on September 6-9 and 12-16. This year you can expect all-you-can-drink beer – duh, this is an Oktoberfest celebration – a three-course Bavarian dinner and live Bavarian music.The whole thing will be hosted in the Big Tent and the German food extraordinnaires at Zeitgeist Bavarian Eatery & Bar are serving up authentic, delicious food for the event.
September 6-9 & 12-16, 5-11pm; RMB325-500; tables are also available, prices vary. Rockbund, Yuanmingyuan Lu, by Beijing Dong Lu / 圆明园路, 靠近北京东路. See event listing. To purchase tickets, click here.
---
Sep 7: Brazilian Independence Party


Image courtesy of Barraco
It's been almost 200 years since Brazil declared independence from Portugal and Barraco's planned a fitting event to celebrate the historic day! Deck yourself out in the national colors of Brazil (yellow and green) to enjoy shots on the house! Enjoy a festive yellow and green "Independência Cocktail" (Don't need a translator for that) for just RMB40!
Sep 7, from RMB40, 8pm. Barraco, see event listing.
---
Sep 7: Wild West Party at The Blind Pig

Image courtesy of The Blind Pig Bourbon & Smokehouse
Dust off those cowboy hats and bandanas for the Blind Pig's Wild West Party! For those in hunger, the Blind Pig have you covered with an epic selection of starters, mains and side options. For drinks, a True Legend Call Me Pale Ale, House Bourbon and Jägermeister are only RMB100. DJ Big Kerm from the Come Correct Crew will provide the saloon with a special mix to get you moving all night.
Sep 7, RMB188 BBQ Buffet, 7-10pm. The Blind Pig, see event listing.
---
Sep 7-8: SHAKE Two Year Anniversary

Image courtesy of Shake
Shake, Shanghai's very own house of funk and soul turns two years old and boy, have they put together a fantastic line-up to celebrate this milestone. For two nights in a row, enjoy six musicians and six singers including Courtney Knott, Kayleigh O'Neill, Matt Cooper and The Shanghai Sheikhs. Sit back and enjoy dinner from 6pm, then unwind and hit the dancefloor from 10pm. Eddy Yang from the Tailor Group will be guest bartending on Saturday as well!
Sep 7-8, RMB100, 6pm-late. Shake, see event listing.
---
Sep 8: The Love Boat

Image courtesy of the Nest / The Sweaty Crew
The Sweaty Crew and The Nest co-host "The Love Boat", where sun, sailors, cocktails, disco and glam await you. Activities include a Village Disco workout, awesome live DJ line-up and magic shows. The Nest will be on hand with BBQ, oysters and cocktails.
Sep 8, 12-8pm, RMB150 presale, RMB180 door. Yifeng Galleria Rooftop, see event listing.
---
Sep 8: King of the Wing!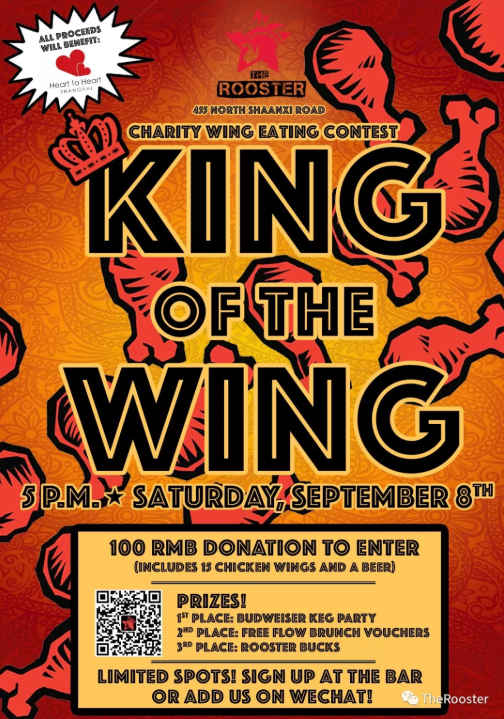 Image courtesy of the Rooster
Fancy trying your hand at an eating contest? Well, then go prove yourself at the Rooster's "King of the Wing" competition and simultaneously raise money for Heart to Heart Shanghai – a charity that provides corrective surgery for Chinese children with congenital heart defects (in need of funding. In addition to doing good, epic prizes are on offer for participants.
Sep 8, RMB100 (donation), 5pm. The Rooster (Jing'an), see event listing.
---
Sep 8: Welcome Back

Image courtesy of the event organiser
Shanghai Mamas and FIELDS combine to bring you an unforgettable Welcome Back party. Enjoy music, dancing, workshops and food while mingling with people and families just like you. Returning families and newcomers, don't miss out on learning about what this mega-metropolis has to offer.
Sep 8, free entry, 11-5pm. Shanghai Centre, see event listing.
---
Sep 8: Hi Spirits #3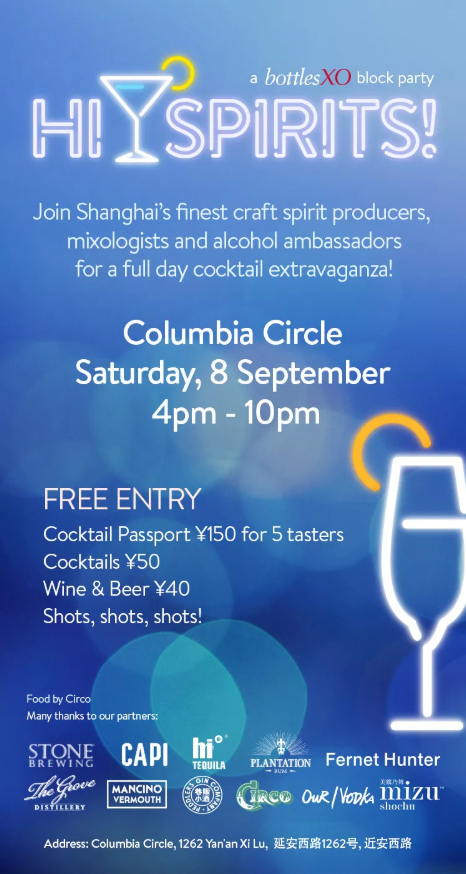 Image courtesy of BottlesXO
BottlesXO are back with their third Hi Spirits! block party. This time, they're taking over Columbia Circle and bringing in some of Shanghai's finest craft spirit producers, distributers, mixologists and brand ambassadors for one hell of a cocktail extravaganza. Just like last time, there'll be no cover and you'll be able purchase individual drinks or buy a cocktail passport for RMB150 which gives you five tasters. Cocktails providers include Spirits Box, Proof & Co and Fernet Hunter with Stone Brewing providing a range of draft beers. As you would expect, BottlesXO has got the wine covered.
Sep 8, free entry, drinks from RMB40, 4-10pm. Columbia Circle, see event listing.
---
Sep 8-9: BREW Beer Fest 2018 at Kerry Parkside

Image courtesy of event organiser
BREW Beer Fest 2018 at Kerry ParksideThe Kerry Parkside's ever-popular 10th annual BREW Beer Fest is back with a vengeance. You'll be able to enjoy and interact with over 30 local and international breweries, 200 craft beers and numerous delicious food vendors. Expect a fun time complete with a beer drinking contest, DJ and live band. Beer enthusiasts – this is not one to miss!
Sep 8-9, 11am. Kerry Hotel Pudong, see event listing.
---
Sep 9: Ladies Who Drink - Inaugural Event

Image courtesy of Ladies Who Drink
Red Cactus hosts China's newest community in their inaugural event. "Ladies Who Drink" seeks to create a network of like-minded women, with a taste and curiosity for quality drinks and lifestyle. Future events will be held across China, offering members the opportunity to try new drinks, learn and appreciate the multi-faceted world of liquor; all amongst the company of other ladies who drink. Beginners and experts alike will find this a great way to learn more about their favorite alcoholic beverages.
Sep 9, RMB150, 2-10pm. Red Cactus, see event listing.
---
Sep 9: Nourish Picnic for Life

Image courtesy of Kathleen's Waitan
Enjoy delicious food from some of Shanghai's most well-known chefs in at this wellness event. Held at Kathleen's Waitan, the event's goal is raising awareness for Lifeline Shanghai's health and wellness services. Drinks provided by Campari, Peddler's Gin, Aperol, and Badoit.
Sep 9, drinks at 4pm, dinner at 6.30pm. Kathleen's Waitan, see event listing.
---
Sep 11-14: Guest Chef Julien Royer (Two-Michelin-starred) at Calypso

Image courtesy of Calypso
Two Michelin-starred Chef Julien Royer must be on cloud nine right now, having been honored at the World's Best 50 Award in 2018 and ranking fifth at Asia's 50 Best Award 2018. He takes over the reigns at Jing'An Shangri La's Calypso for three days, where he'll be serving up a four-course lunch, lunch wine pairing, six-course dinner and dinner wine pairing.
Sep 11-Sep 14, RMB160-RMB688. Calypso, Jing An Shangri-La, see event listing.

[Cover image courtesy Peddlers Gin]
---
Get more Shanghai event guides sent directly to your phone (along with restaurant reviews, giveaways and other goodies) by adding Thats_Shanghai on WeChat, liking us on Facebook or subscribing to our weekly newsletter.
If you have an event, upload it to our site through our User Center. It's free, it's easy and it's the best way to get into one of our Event Guides.