That's Shenzhen takes a look at the best of the week:
---
Wed, Jun 19: Lite China Tour


Image via Showstart
Japanese instrumental four-piece band Lite is showcasing their brand new album, Multiple. The band is known for their thrilling and emotional compositions, progressive, edgy riffs and complex rhythms. Their explosive live show and tireless touring in the US, Europe and Asia along with worldwide album releases have brought acclaim from all quarters. Lite have played at Fuji Rock Festival, Summer Sonic and headlined ArcTanGent Festival in UK. They are widely regarded as one of the most exciting bands to emerge from Japan in the last decade.
Wed Jun 19, 8.30pm; RMB120 presale. B10 Live. See event listing. Tickets.
---
Thu, Jun 20: Vida Guitar Quartet


Image via Vida Guitar Quartet/Facebook

Looking for a musical treat? If so, you won't want to miss Vida Guitar Quartet as they roll into Shenzhen this month to perform at the Shenzhen Poly Theater in Nanshan district. Composed of four incredibly gifted UK-based guitarists, this ensemble sparks vitality and spontaneity on a level that's hard to match. Vida has performed all over the world, earning critical acclaim at major venues in the US, UK and Europe at large. On the evening, they will perform some truly brilliant works, such as George Gershwin's 'Rhapsody in Blue' and George Bizet's 'Carmen Suite,' among other delightful musical pieces.
Thu Jun 20, 8pm; RMB280-480. Shenzhen Poly Theater. See event listing. Tickets.
---
Thu, Jun 20: Quiz Night at Evil Duck


Image via Unsplash
Every Thursday team up and test your general knowledge at Evil Duck in Shuiwei. This week's quiz theme is our very own city, Shenzhen! Hosted by quizmaster Dan, happy hour ends at 8pm and the quiz begins at 8.30pm. Winners receive two cases of cider and of course, eternal glory. Snacks are buy two get one free and there's an extra happy hour after the quiz!
Thu Jun 20, 8.30pm; free entry. Evil Duck. See event listing.
---
Fri, Jun 21: Fxxk Taboos: Chili Edition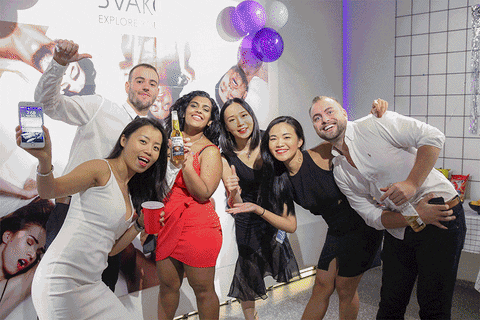 Image via GIPHY
Want to explore your limits, engage in stimulating conversation and laugh your pants off this weekend? Look no further, Fxxk Taboos Chili Edition is back in town. If you're not familiar with Fxxk Taboos — it's a global party series hosted by SVAKOM, a high- end sex toy company from the US. SVAKOM will host this inclusive sex-positive night of learning, laughing and loving your new silicone friend (free with entry!) Join two stand-up comedians, Alice He and Joslyn Lee for a glass of bubbly as they share their funny, fearless and sometimes embarrassing adventures they've had. Perhaps the climax of the night will be the notorious banana contest and did we mention there'll be some awesome prizes for those in attendance?
Fri Jun 21, 8.45pm; RMB120 early bird, RMB150 at door. Baia Burger Concept. See event listing. Tickets.
---
Fri, Jun 21: Jazzy Sport Label Party


Image via 247 Tickets
Groove to DJ Mitsu the Beats and afrobeat band ☆.A/NAOITO all night long at Hou Live this Friday. DJ Mitsu the Beats is the alias of a diminutive yet very talented Sendai City native who stormed everyone's favorite charts with his first solo LP, A New Awakening, and his group GAGLE's first album. ☆.A/NAOITO is a four-piece band, and their solo album was released last August.
Fri Jun 21, 9pm; RMB180 early bird, RMB220 at the door. Hou Live. See event listing. Tickets.
---
Sat, Jun 22: Aromatherapy Jewelry Workshop


Image via promoters
After the recent success of their event at the Health and Wellness Fair, Olia and Liva are hosting their last summer workshop on creating aromatherapy jewelry. Enjoy a complimentary drink while overlooking beautiful Shenzhen from the 34th floor, and discover the healing world of jewelry. Get a chance to create your own scented earrings and learn all about its health benefits.
Sat Jun 22, 12.30pm; RMB128. Jilou Space. See event listing.
---
Sun, Jun 23: Irina Mejoueva Piano Recital


Image via Design Society
Born in Gorki, Russia, Irina Mejoueva studied at Gnessin Institute of Music in Moscow under pianist Vladimir Tropp. She started her career in 1992, the same year in which she won first prize at the Eduard Flipse Piano Competition in Rotterdam. Her upcoming recital at Mountain View Theater, features a program of the romanticism era, focusing on Chopin, Liszt, Debussy, Scriabin and Medtner, who were all pioneers in discovering the magic of the piano.
Sun Jun 23, 8pm; RMB380-480. Mountain View Theater. See event listing. Tickets.
---
Until Sep 28: 'A Light Chaser' Marvelous Exhibition of Vincent van Gogh


Image via promoters
Fancy some Vincent van Gogh masterpieces? If so, you won't want to miss China Resource Tower Art Center's 'A Light Chaser' Marvelous Exhibition of Vincent van Gogh, which is running until the end of September. Check out 21 unique works from some of the best museums in the world. This exhibition is a real treat for artistic techies, with moving art concepts adding life to some of the artist's most iconic works.
Until Sep 28, 10am-10pm; RMB188 regular pass, RMB450 family pass. China Resources Tower Art Center Museum. See event listing. Tickets.

---
For more things to do in Shenzhen, check out our Events Section.

For more Shenzhen event guides, get them sent directly to your phone (along with restaurant reviews, giveaways and other goodies) by adding ThatsShenzhen on WeChat, liking us on Facebook or subscribing to our weekly newsletter.
If you have an event, upload it to our site through our User Center. It's free, it's easy and it's the best way to get into one of our Event Guides (See our how-to guide here).
[Cover image via promoter, Unsplash, 247 Tickets, Design Society]