You know what they say, 'new year, new me.' It's time for new goals and to leave 2020 in the past. Here's a list of parties around town, if you don't find something up your alley most hotels are throwing some type of celebration, or just kick it at home with a glass of wine and board games. We back it!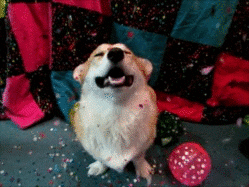 Image via Giphy

Come show off your best winter outfit, drink hot mulled wine, stay warm and dance into a better 2021.
Dec 31, 9pm-2am; RMB80 presale, RMB120 at door. Baia Burger Concept. 2681 8890

Three hours of free flow, why not?
Dec 31,10pm-1am. RMB358 at door, RMB287/person for group of 10. Compass Bar by Curator. 2388 3404

Drip Lab
New Years party at DripLab Express Bao'an! Free entrance and buy one get one free till midnight!
Dec 31, free entry. Drip Lab. 2/F, 195 Haicheng Lu, Bao'an District 宝安区海城路195号二楼
Welcome 2021 in style and luxury at Ensue. Ensue will have a prestigious tasting menu for dinner while Alcove (the bar upstairs) will host a NYE countdown party that starts at 10pm.
Dec 31, all evening. RMB2,888 Ensue dinner, RMB488 countdown party. Alcove.

There will be a buy two drinks and get one free deal on from 4.30-7.30pm and live music from 9pm onwards. Get ready for noise makers and some sparkling wine at midnight!
Dec 31, 4.30pm; free entry. Gecko.
Say goodbye to a year to forget by cramming in at least one good memory of 2020 and welcome 2021 at George & Dragon with a scrumptious barbecue buffet. Mouthwatering lamb chops, beautiful pork ribs, succulent chicken legs, tasty beef burgers and hot dogs with sides of potato salad, mac and cheese and garden salad! For booking or more information, call or WeChat them at 159 8794 9007 or email manager@george-dragon.net.
Dec 31, 7pm; RMB188 (under 5 free; 5 to 10 years old and over 60 pay RMB100). George & Dragon. See event listing.

There will be a countdown party at La Maison with an amazing ambiance and delicious sharing set menu dinner with oysters, foie gras, rossini beef and lobsters starting from only RMB788. Join the crowd at 10pm for a party with free flow (red, white, rosé, sparkling, beer) drinks.
Dec 31, RMB318 early, RMB398 at door. La Maison. 2685 7030

Countdown with Latina and enjoy all-you-can-eat roast turkey, ham, roasted suckling pig, lamb chops, grilled salmon, deluxe Brazilian BBQ and a special buffet.

Dec 31, 5-10.30pm dinner, 11pm-1am countdown; RMB396/person. Latina.
All you can drink sparkling cocktails all night long! See the menu here.
Dec 31, 9pm-1am; RMB298. Life on Mars. Reserve.

Introducing the newest member of the Magpie family, Nightingale. Swing by on NYE and help them open the doors to the new location. There will be unlimited snacks, curated cocktails for RMB50 and free flow Crémant all night. Dresscode is '20's on the Bund,' cheongsam and chinoiserie.
Dec 31, 10pm; RMB300. Nightingale. Add WeChat: cadencegao for more details.
Oil Club has year after year thrown some big bashes for NYE. This year there will be four DJs headlining, local talent on deck and more. Three stages will be open so you know you're bound to find something to groove to. See more info here.
Dec 31, 8pm-late; RMB200. Oil Club. Tickets.
This year PandoraParties' NYE Masquerade will be held at a private terrace in Futian district right next to Gangxia metro station. See more info here.
Dec 31, 9pm-4am; RMB100-200. Eternal Garden Terrace. Tickets.
To welcome the new year, The Glasshouse and Garden Pavilion will present a delectable New Year's Eve dinner.

Dec 31, 5.30-10pm; RMB888/person. Park Hyatt Shenzhen. See event listing.
On the first day of 2021, they will open their open a jam stage to meet and connect inspiring musicians.
Jan 1, 9-11.30pm. Roots House. See event listing. 153 0261 8010

Free flow of pastor tacos and micheladas and at midnight there will be free shots and sparkling wine.

Dec 31, all day; RMB200. Tacos. 2161 1006
Come this Thursday to enjoy their amazing Mexican buffet. There will be three of the best DJ's in Mexico, livestreaming exclusive sets for this celebration! There will be promotions on beers, margaritas and tequila shots! What are you waiting for?
Dec 31, 6pm-late; RMB298/person. Tequila Coyote's. 2683 6446
There will be a special lucky draw, live DJ performance, free-flow champagne, selected red and white wines, spirits and soft drinks plus a few of more surprises awaiting you on the 48th floor of the Park Hyatt Shenzhen.
Dec 31, 9pm; RMB580/person. The Attic. See event listing.

Ring in the New Year at Shenzhen's first ever silent disco NYE party. Hosted by MC Anoh, this event will have specialty cocktails by DripLab, three top DJs, premium free flow wine, delicious hors d'oeuvres, VIP bottle service and a terrace overlooking the city's views. Dress Code? Grown, sexy and elegant. Tickets are only available via presale and headphones must be reserved in advance.
Dec 31, 10pm-2am; RMB300 early, RMB400 general admission. Residence G. See event listing.
Terrace is throwing its annual big bash for New Year's and you're most certainly invited. Among all the usual NYE festivities there will be a special guest dance performance! Tickets come with a free glass of sparkling wine. For more information and tickets, call 2682 9105.
Dec 31, 9pm; RMB200at the door. The Terrace Restaurant & Bar. Tickets.
The Brew will have an epic full night of live music, and yes, no cover charge!
Dec 31, until late; free entry. The Brew.
---
For more things to do in Shenzhen, check out our Events Section.

For more Shenzhen event guides, get them sent directly to your phone (along with restaurant reviews, giveaways and other goodies) by adding ThatsShenzhen on WeChat, liking us on Facebook or subscribing to our weekly newsletter.
If you have an event, upload it to our site through our User Center. It's free, it's easy and it's the best way to get into one of our Event Guides (See our how-to guide here).
[Cover image via Unsplash]