Move over cat cafes, because there are new cute critters in town for lonely, young urbanites to share a coffee with. A new rodent cafe called Mini Monster in Shenzhen has marmots, hedgehogs, guinea pigs, chinchillas, squirrels, raccoons and other tiny-pawed mammals for you to cuddle with. Though considered common pests for some, these fur babies are sure to gnaw on your heartstrings.
If therapy dogs provide comfort, try holding onto these timid handfuls of cuteness. The cafe has been thoughtfully designed with a very clean, white minimalist aesthetic throughout and, surprisingly, doesn't really smell. To enter we paid the RMB30 admission fee and were quickly led inside. As far as hygiene goes, there's a bottle of hand sanitizer on the front desk available for use at your discretion.
The 30-plus pets are kept in glass boxes lining the walls in the main area. If you want to feed or pet them, just kindly ask one of the breeders to assist you.


Image via Phoebe Kut/That's
The star of the show is definitely the raccoon, which you're allowed interacting with in an enclosed area in the middle of the room. It's pretty intelligent and has lots of personality.
READ MORE: There's a Raccoon Obesity Problem at the Guangzhou Zoo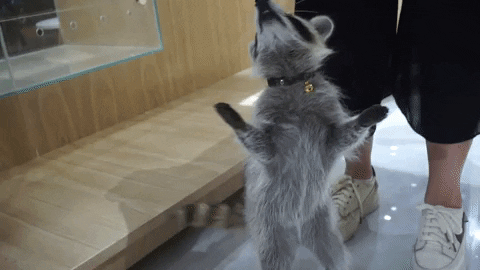 Image via @phoebekut/Giphy
There's a sprawl of marmots, which are quite scrappy and fun as well.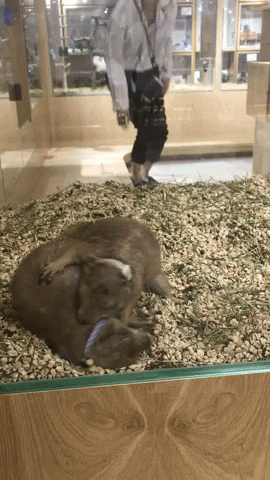 Image via @phoebekut/Giphy
If you're feeling peckish, there are a few fruit teas and small bites like fries and chicken available to order in the bar area (But let's be real you're here to see the animals).
Mini Monster's pets are all quite friendly and well-trained. Unfortunately, children under 12 years old are not permitted.
Be sure to check it out on a weekday or weeknight during off-peak hours to get maximum cuddle time!
See listing for Mini Monster.
READ MORE: 4 Cat Cafes to Check out in Shenzhen
[Cover image via Phoebe Kut/That's]