Zach Etkind, the man behind all those 'Donnie Does China' videos and Monkey Kingz pranks, made international headlines last week when video emerged of him trolling a Donald Trump rally in South Carolina. In the video, Etkind is seen heckling Trump by mimicking expressions, pretending to fall asleep and holding up a sign that says "TRUMP LIKES HIS STEAK WELL DONE" (a reference to a report in The Telegraph which alleges The Donald ordered a well-done steak at a restaurant in New Hampshire. Rookie mistake).
Watch the video below (VPN on):
(VPN off):

Trump himself shook his head when he eventually saw Etkind's sign: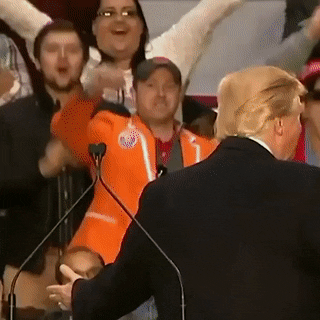 Etkind's antics also garnered some attention on Twitter:

From his first Youtube upload way back in the ancient times of 2012, Etkind's Donnie character has been, well, doing his way throughout China. Some of his more popular (mis)adventures as the self-proclaimed 'Wonton Don' include him pretending to be Roger Federer, heckling multiple Shanghai Sharks games, living at IKEA, taking part in Chinese park fitness, sneaking into Hong Kong Rugby Sevens... the list goes on, with plenty more videos over at his Youtube account. (And who could forget his not one, but two music video odes to Shanghai?)
Etkind also shared a few more of his strange experiences not caught on tape right here on Thatsmags.com, including what it was like being locked up in a Chinese jail, partying with a crew of gigolos on a Huangpu River cruise and traveling to his ayi's farm in Anhui for Chinese New Year. (You can see a full archive of his columns here).
We caught up with Etkind, who recently moved back to the US, to ask a few questions about the Trump stunt...

So your stunt at the Trump rally, can we expect to see a Donnie Does video about it?
It was originally my plan to film a Donnie Does video with me interacting with Trump supporters and possibly getting interviewed by Fox News. However, after showing up I realized I actually had a chance of getting a seat directly behind Trump if I kept a low profile and just blended in with the crowd so I probably don't have enough footage for a full episode. However, I'll still be releasing some entertaining clips via social media and may film at a few other upcoming rallies in my area.
Did you have any issues with security before or after the incident?
I had absolutely zero issues with security before and after the event. I think mainly because I looked like your run of the mill red blooded Trump supporter complete with my "Make America Great Again" hat and Patriots Suisey (Trump is an outspoken Tom Brady fan). However, I learned later that a professor wearing a Middle Eastern headdress who was peacefully watching Trump's speech, was kicked out of the rally simply because he was making people around him uncomfortable. Kinda messed up.
Do you plan on trolling any more political rallies in the near future?
It's going to be a long election season so I definitely wouldn't rule out trolling another rally. Ted Cruz strikes me as a fun guy to mess with.
Who do you want to win the election?
I'm undecided at the moment and won't claim to be an expert on what political policies would be best for the U.S. (I mean I've been living in China for the past five years). However, what really rubs me the wrong way about candidates like Trump and Cruz is their fearmongering (I must have heard about how the country is going to hell at least four different times at the Trump rally) and the way they condone using entire demographics of people as scapegoats for many of our country's problems. Also, as someone who has lived in China and seen firsthand what unchecked industrialization and pollution can do to a place I have zero time for someone who thinks global warming is a hoax. I guess I'm leaning towards Sanders at the moment.
You make clothes in China and Trump's "Make America Great Again" clothes were at one point rumored to be made here. Do you see a partnership with him in the future? Or do you think you've totally blown it with this stunt?
I would love to get a Suisey on Trump and some of his campaign leaders as I think there could actually be a market for political Suiseys. However, if his campaign aides have the time to do background research and see that the company's founder is the guy who has been trolling him then I guess that will just mean more free Suiseys for the opposition.
What does Trump's hair look like up close?
It definitely doesn't look better in person but doesn't look worse either. What you see is what you get when it comes to his hair at least.
What's the reaction been since you pulled off the stunt? Any haters or death threats? Has anyone threatened to build a wall to keep you out?
It's been picked up by quite a few online publications and I heard from both an Irish friend and French friend that it made televised news in their respective countries. If I had known I'd be able to get a seat like that I probably would have put a lot more thought into my trolling tactics but people seemed to have enjoyed it nonetheless. There have been some haters hitting me up on Twitter or commenting on Youtube videos but as someone who has been putting himself online for quite a while it's nothing I'm not used to. One person commented "Too bad he didn't try these stunts in China. Otherwise he'd have a greater appreciation for our democratic process." Um....I did.
READ MORE: The 4 most insane things that Donald Trump just said about China