Thurs Sept 3: Guest Bartending Series at The Camel
Image via Promoter
This Thursday, September 3 at the new and improved Camel, come shake it up with Helena from Crimson Pangolin with her twists on classical favorite cocktails. Sip on everything from a fruity Black Goji Bramble to a tart Flight 88, or Crimson Pangolin's updated version of an Aviation. For those looking for that bitter bite, the Oak Barrel Negroni is for you, and for the floral fans, the Rose Ramos with Rose Crimson Pangolin gin and cream will make your night.
Thurs Sept 3, 7-10pm; RMB45 per cocktail. The Camel Sports Bar and Kitchen. 97 Xiangyang Bei Lu, by Xinle Lu襄阳北路97号襄阳大楼1楼, 近新乐路. See event listing.
Thurs Sept 3: Footloose Plus Back to the 80's Live Band
Image via Promoter
This Thursday come relax at The Pearl for a classic tale of teenage rebellion and repression featuring a delightful combination of dance choreography and touching performances. When teenager Ren McCormack and his family move from big-city Chicago to a small Midwestern town, he's in for a real case of culture shock. Though he tries hard to fit in, the streetwise Ren can't quite believe he's living in a place where rock music and dancing are illegal.
Thurs Sept 3, film 7pm, live band from 9pm; RMB100 includes two drinks. The Pearl. 471 Zhapu Lu, by Wujin Lu乍浦路471号, 近武进路. See event listing.
Fri-Sun Sept 4-6: LatinLand Market Festival
LatinLand Market Festival is back for the next two weekends in a row, even bigger and better than ever, in an outdoor space located in one of the most vibrant areas of Shanghai, the North Bund at Waitanyuan. The festival is a family-oriented cultural event that provides communities in Shanghai a place to gather with family and friends to eat, dance and listen to live entertainment while connecting with other fans in an open social space.
Fri-Sun Sep 4-6, Fri 5-11pm, Sat-Sun 12-11pm; Free. Waitanyuan, 107 Nan Suzhou Lu, by Yuanmingyuan Lu, 原新天安堂 南苏州路107号, 近圆明园路. See event listing.
Fri Sept 4: Football Quiz
The Football Quiz has found a new home at The Hop Project. Made up of seven rounds of football fun including video clips, entry is free and there is a real life cup for the winners to hold aloft, as well as plenty of booze prizes. There is also a league with each season's winners crowned and given a grand prize, the likes of which football fans can only dream.
Fri Sept 4, 7.30pm; Free. The Hop Project. 372 Dagu Lu, by Chengdu Bei Lu 大沽路372号, 近成都北路. See event listing.
Fri Sept 4: Back to School: A Night of Punk Rock

Image via Promoter
This Friday C's will be hosting back-to-school night. Your teachers, CARBON, Fliphouse, Banjax and Tina Turnatrick will be educating you in the fine subject of Punk Rock. There will be free entry and drink specials until 10pm. If you dress up in a school outfit, you'll get a free shot at the bar!
Fri Sept 4, doors 8pm, music from 9.30pm; Free. C's. 685 Dingxi Lu, by Yanan Xi Lu上海市长宁区定西路685号,近延安西路. See event listing.
Fri Sept 4: Chocoholics Night
Image via Promoter
Perch will be having a chocoholics night on Friday, with tasty treats to tantalize your taste buds. From chocolate inspired cocktails to chocolate chips and dips, this with be a night filled with all your rich chocolatey dreams.
Fri Sept 4, 7-10pm; Free. Perch. Rm 107, 445 Jiangning Lu, by Wuding Lu江宁路445号107室, 近武定路. See event listing.
Fri Sept 4: Amy Winehouse Tribute Night
Image via Promoter
Shake presents a tribute to one of the most brilliant, influential and soulful singers in history: Amy Winehouse. Lannie Loong stars in this 21-song, three set concert, backed by an all-star band, featuring Yang Hongbin on keys, Zhang Tianchi on bass, Chen Xiaozhou on drums, CK on trombone, Jeremy Sinclair on trumpet, Zhao Xinbo on guitar and special guest singer, JoJo. Expect hits, deep cuts, dancefloor madness and a lot of soul. This event is for one night only.
Fri Sept 4, 9.30pm; RMB100. Shake. 3/F, 46 Maoming Nan Lu, by Jinxian Lu茂名南路46号3楼, 近进贤路. See event listing.
Fri Sept 4: 90's Skate Party
Image via Promoter
This Friday, Riink Jing'an is throwing a 90s party! Come down to the new Jing'an location to nibble, slurp and roll all night long. Music will be brought to you by DJ Flyz, and the kitchen and bar will be open from 5pm. Package deals available. There will also be free shots for those in 90s gear.
Fri Sep 4, kitchen and bar from 5pm, music from 7pm; Free. Riink. Building 18, Room 102, 358 Kangding Lu, by Shaanxi Bei Lu, Shankang Li静安区康定路358号陕康里18号楼102室. See event listing.
Fri Sept 4: La Kitsch
Image via Promoter
Come out this Friday to the La Kitsch party where you decide the next song. It's sure to be a fun Friday night of dancing – unless someone decides 'Hey Jude' just has to play next, then it will turn into a singalong.
Fri Sept 4; Free. Le Café des Stagiaires. Found 158, 158 Julu Lu, by Ruijin Yi Lu巨鹿路158号Found 158, 近瑞金一路. See event listing.
Sat Sept 5: Retro LAN party
Image via Promoter
Retro LAN Party is back for the third edition by popular request. This party will feature Quake III, Arena, Starcraft and so much more. Bring out the hard-core gamer in you as you have fun at the bunker with friends and a wide range of LAN games! There will be free-flow pizza and a whole spectrum of Belgian beer.
Sat Sept 5, 12pm-midnight; RMB100. Agora Space. Bldg.8, 1199 Panyu Lu, by Kaixuan Lu番禺路1199弄8号, 近凯旋路. See event listing.
Sat Sept 5: Beer & Swing Dance Party
Image via Promoter
The hot summer is coming to an end, meaning it's a perfect time for a late summer beer party. There will be bands playing as well as a retro swing dance performance with teachers so you can get into the action. Light up the night and enjoy an end of summer bash.
Sat Sept 5, 7.30-11.30pm; RMB118-138. Guinness Gatehouse. 1/F, 1788 Plaza, 1818 Nanjing Xi Lu, by Wulumuqi Bei Lu南京西路1818号1788广场1楼, 近乌鲁木齐北路. See event listing.
Sat Sept 5: Goose Island Summer of Hops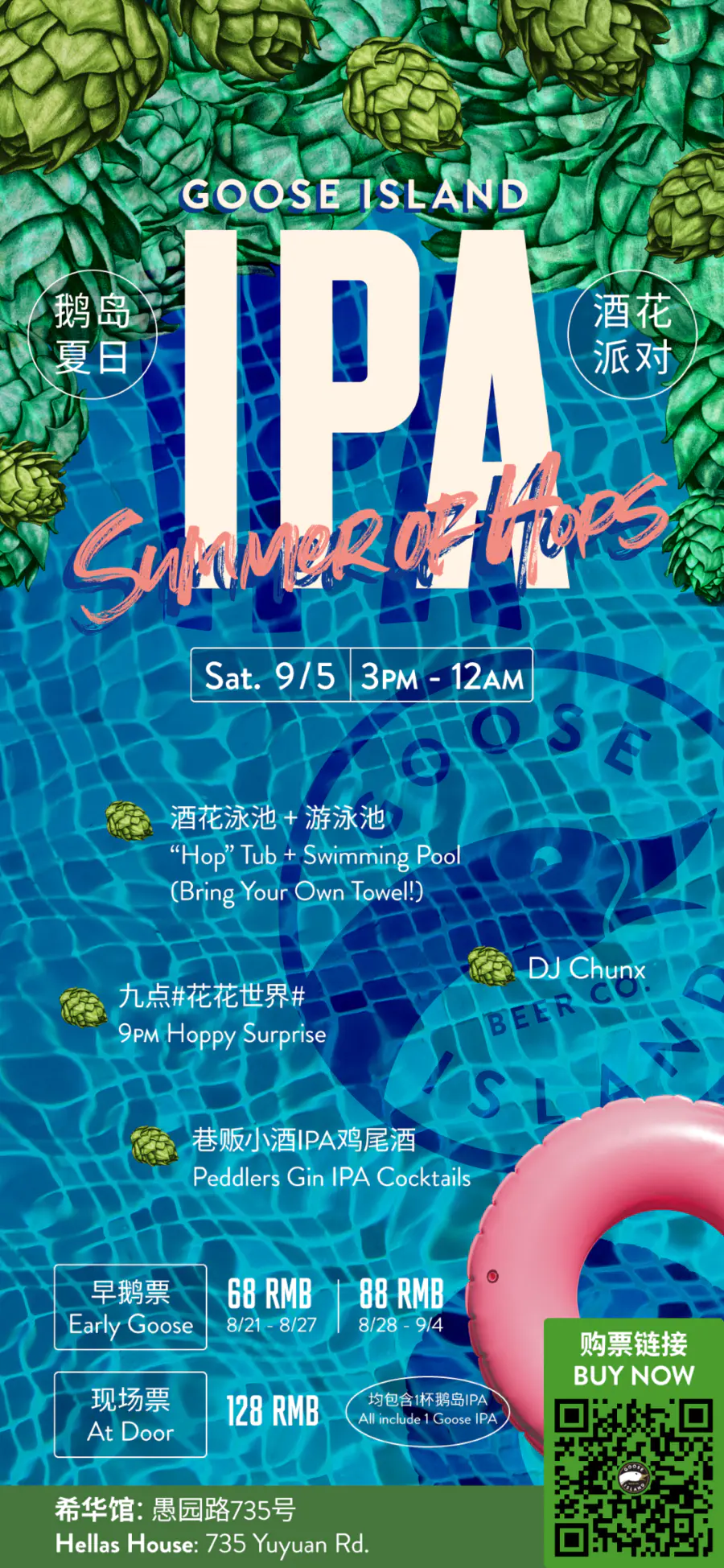 Image via Promoter
Goose Island's Summer of Hops Party is here to help you cool off. Have you ever seen a pool full of hops? Want to experience fresh hops up close? They have DJ Chunx, hoppy Goose IPA, Peddlers Gin Cocktails, hop scented candles, hop flavored food prepared by the Head Chef of Goose Island Brewhouse and limited Goose Island merch all waiting for you, so come out and enjoy.
Sat Sept 5, 3pm-midnight; RMB68-RMB128. Hellas House. 735 Yuyuan Lu, by Zhenning Lu愚园路735号,近镇宁路. See event listing.
Sat Sept 5: Indian Summer Street Eats
Image via Promoter
El Santo is hosting Chef Hardeep of The Bull and Claw and Anu Aggarwal of Desi Dhaba for a one day only taste of all things India! From kebabs to samosa chaat, stuffed rotis to Anu's famous Kebabwich, the menu will be a true taste of India. Sip on Indian-inspired cocktails while jamming out to DJ Baksheesh's Bollywood hip hop vibes.
Sat Sept 5, 12-8pm. El Santo Tacos & Tequila. B/1, Found 158, 158 Julu Lu, by Ruijin Yi Lu巨鹿路158号B1层, 近瑞金一路. See event listing.
Sat Sept 5: Summer Splash Pool Party Vol. 2
Image via Promoter
With Ibiza summer vibes and amazing pool frolicking (we do love a good frolicking), Shoushan Wealth Club will host performances by eight incredible DJs playing House, Disco, Latin and Hip Hop music from day to night to make you dance like never before. There will even be a twerk competition, a raffle, BBQ, beer pong, pool yoga, shisha and more.
Sat Sept 5, 1-8pm; RMB188-288. Shoushan Wealth Club. Lane 1883, 96 Huamu Lu, by Fangdian Lu花木路1883弄96号, 近芳甸路. See event listing.
Sun Sept 6: Upcycling Clothes Workshop

Image via Promoter
Creative Shelter will be hosting an upcycling workshop this Sunday. Upcycling is using your old items to create something new, and sometimes even better. In this workshop you will learn to sew on buttons and fix buttonholes and zippers, to shorten or add material, to sew on patches, and to do other basic alterations. Bring your own pieces to sew. This workshop will be held twice this Sunday so please reserve your spot.
Sun Sept 6, 10.30am-12.30pm and 2.30-4.30pm; RMB380 one person, RMB650 two people. Creative Shelter. No.22, Lane 272, Nanchang Road南昌路272弄22号. See event listing.
---
Get more Shanghai event guides sent directly to your phone (along with restaurant reviews, giveaways and other goodies) by adding Thats_Shanghai on WeChat or liking us on Facebook.

If you have an event, upload it to our site through our User Center. It's free, it's easy and it's the best way to get into one of our Event Guides.