It's that time of the year again: when the 'dragons' are unleashed upon rivers throughout the Pearl River Delta, Guangdong and China at large. Below, we've selected some of the best-known and adrenaline-pumping races to watch in our fair province during this duanwu jie and beyond.
---
Guangzhou

Jun 7-9: Guangzhou Wetland Park Dragon Boat Festival
A total of 30 teams, including the Guangzhou International Dragons, a local team comprised of individuals hailing from different nations, will be paddling on the river at Haizhu Wetland Park on June 7. From June 8-9, a wide range of themed activities will be held, including dragon boat and SUP (paddleboard) experience trips for the public, land-based games for families as well as booths run by companies and environmental NGOs.
Fri-Sun Jun 7-9, 9am-3pm; RMB20. Haizhu Wetland Park.

Jun 7: Liede Dragon Boat Festival
Leide village hosts one of Guangzhou's largest festivals, which takes place at the Liede canal in Zhujiang New Town on June 7. This is a must-attend event for CBD dwellers.
Fri Jun 7, all day; free. Leide Canal (along Leide Lu by Exit B of Leide Metro Station), Tianhe District, Guangzhou 广州市天河区猎德涌
Jun 9: Urbanites Dragon Boat Cultural Experience Day
Being held on June 9 from 9am-4pm, this fun-filled, family-friendly event invites up to 30 families to come and experience the magic of Dragon Boat Festival at Liede village. This is a fantastic opportunity to learn more about traditional Chinese customs and bask in Lingnan culture.
So, what can you expect at the first-ever Urbanites Dragon Boat Cultural Experience Day? Well, curious reader, a whole lot of fun and food – that's what! Make zongzi – the most iconic foodstuff of Dragon Boat Festival – the traditional way at the Li Ancestral Hall, before engaging in a poetry-reading experience where attendees will be given a poem to read before other attendees.
Sun Jun 9, 9am-4pm; RMB398 for two adults and one child (under 12 years old), RMB150 for one adult, RMB120 for one child (under 12 years old). Li Ancient Hall. Scan the QR code below to purchase tickets.
Jun 9: Panyu Dragon Boat Races
The biennial 'Lianhua Cup and Yushan Cup' will see over 100 'dragons' cruising the surface of Shiqiao River in Guangzhou's Panyu district as they compete in both traditional and standard races.
Sun Jun 9. Shiqiao River (east of Dexing Bridge), Panyu District, Guangzhou 广州市番禺区市桥河 (德兴大桥以东河段)
Jun 15: Guangzhou International Dragon Boat Racing Tournament
This popular dragon boat tournament will be held on the section of the Pearl River between the North Gate of Sun Yat-sen University and Guangzhou Bridge. Both traditional and standard dragon boats will be competing for glory, and attendees can also check out a number of colorful parades taking place in the area. Last year, the Pearl River saw a total of 130 teams and roughly 5,000 athletes. Teams from as far afield as Iran, Canada and the UK will compete against homegrown teams for the championship title. Guangzhouers, come cheer for and support your home team – the Guangzhou Dragons.
Sat Jun 15, 8am; free. North Gate of Sun Yat-sen University.
---
Hong Kong

Jun 7: Stanley International Dragon Boat Championships
The Stanley International Dragon Boat Championship is one of the largest and most prominent dragon boat races in the world, with some 200 local and international teams participating in the action-packed, high caliber races. Expect a big crowd of spectators.
Fri Jun 7, 8am-5pm; free. Stanley Main Beach, Stanley, Hong Kong 香港赤柱正滩
Jun 14-16: Hong Kong Dragon Boat Carnival
The Hong Kong Dragon Boat Carnival is taking place from June 14-16. While international and local teams compete on the choppy waters of Victoria Harbour against the backdrop of a world-class skyline, attendees can join Hongkongers in making a party out of this ancient Chinese festival! The carnival will feature a man-made beach for families and friends to soak in the good vibes. Guests can also enjoy a street food gala, serving up a variety of local and international eats and beers, along with an artisanal market.
Fri-Sun Jun 14-16, various times; free. Central Harbourfront Event Space, Lung Wo Road, Central, Hong Kong 香港中环龙和道中环海滨活动空间
---
Macau

Jun 7: Macau International Dragon Boat Races
This year's Macao International Dragon Boat Races will see teams from Hong Kong, Japan, the US, Philippines, China, Thailand, Singapore, Korea and Australia compete for glory. The Macao races have been promoting the modality of dragon boating and have grown to become a grand-scale sporting event attracting athletes from around the world. On June 7, the final day of the races, international teams will compete on the waters of Nam Van Lake.
Fri Jun 7, time TBD; free. Nam Van Lake Nautical Center, Macau 澳门南湾湖
---
Foshan

Jun 6: Daliang Folklore Carnival

Various festivities will be will held at Fengcheng Shidu Square in Foshan's Shunde district, which will be divided into three categories: markets, light shows and folklore parades. Attendees can look forward to making zongzi, stage performances and Cantonese opera, among other fun activities.
Thu Jun 6, 3-9.30pm; free. Fengcheng Shidu Square, Shunde District, Foshan 佛山市顺德区凤城食都广场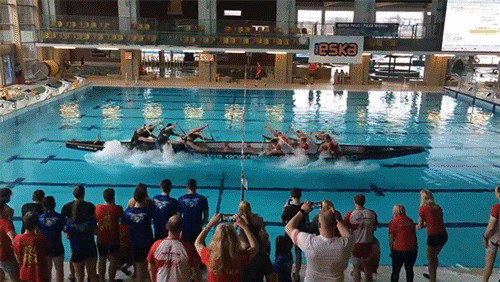 Image via Giphy
---
Dongguan

Jun 14: Shatian Dragon Boat Race
The town of Shatian, in Dongguan, is billed as 'a home of dragon boating' and has won many titles in races held throughout China. Local teams are scheduled to compete on Shatian Freshwater Lake on June 25 this year.
Fri Jun 14. Danshui Hu (freshwater lake), Shatian town, Dongguan 东莞市沙田镇淡水湖
---
Huizhou

Jun 7: Huicheng District Dragon Boat Race
Starting at 9.30am at Jinshan Lake Park in Huicheng district, this annual district-level race will see 22 male teams and nine female teams compete for honor and glory.
Jun 7, 9.30am. Jinshan Lake Park, Huicheng District, Huizhou 惠州市惠城区金山湖
READ MORE: The Story Behind Dragon Boat Festival
[Cover image via @xgenerals/Instagram]