Halloween is one of the only times of the year that you can dress up (or dress down) without any repercussions, so to speak. As such, and in the grand old tradition of festive celebration, Guangzhou's nightlife offers a variety of spooky events around the city starting this weekend!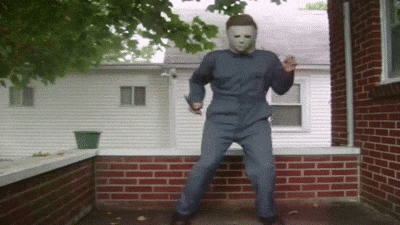 Image via Giphy
Not sure where to celebrate and flaunt that perfect outfit you snagged at one of Guangzhou's costume shops? Here's your ultimate guide to the hottest spots in the city this Halloween party season.
Oct 26
Enjoy three hours of free flow sangria, gin and tonic, beers and Bloody Marys – as well as snacks – at Gail's Halloween party, which also features a best-costume prize.
Oct 26, 8.30-11.30pm; RMB160 early bird, RMB188 at the door. Gail's American Cuisine & Bar. See event listing.
Hooley's will continue their ghoulish Halloween party tradition by hosting live band Easy Tiger and Gigantic this Saturday. There will also be a costume contest and an MTV video dance party featuring DJ Derek, as well as devilish drink specials.
Oct 26, 9.30pm; free entry. Hooley's Irish Bar & Restaurant. See event listing.
InterNations Guangzhou
InterNations is hosting their first Halloween party for Guangzhou's expat community this month. Located on the outdoor terrace of Mg, Conrad Guangzhou's chic bar, attendees will enjoy three hours of free flow drinks and canapes, as they mingle with people from all around the world. Feel free to bring your friends! (A costume is not required to join this event.)
Oct 26, 8pm; RMB250. Mg. See event listing.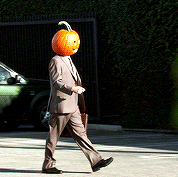 Image via Giphy
The Soiree Saturday Halloween Party at Jojo's Riverside will feature performances from two dance studios. Ladies will be treated to frozen daiquiri from 9-10pm at the female-friendly establishment.
Oct 26, 9pm-late; free entry. Jojo's Riverside. See event listing.
At this Halloween bash, partygoers will receive unlimited snacks and craft beers plus professional face-painting for RMB256. Newly formed, Guangzhou-based live music group Kaoss GZ, among other musical acts, will damn near tear the roof off the place with their hypnotic old school, jungle and dub-step beats. Purchase your ticket before October 26 and get one for free.
Oct 26, 8.30pm; RMB256. Tipsy. See event listing.
Come to Zapata's with your best Halloween costume or spooky makeup for a chance to win gift vouchers worth up to RMB2,000. Live bands and DJs will keep your toes tapping all night.
Oct 26, all night; free entry. Zapata's. See event listing.
Oct 27
Join Bandido's second annual pumpkin carving event on Sunday, where the carving tools and a meal for the kiddos will be prepared. Supplies are limited, so be sure to make a reservation by calling 131 4894 0828.
Oct 27, 3pm; RMB100. Bandidos Mexican Cantina. See event listing.
Oct 31
Join techno gurus Hoodoo for some dirty techno and funky music at the Hoodoo Halloween party at Brasston. Best of all, entry is free.
Oct 31, 8pm; free entry. Brasston. See event listing.
Hooley's will host a Halloween-themed trivia night on October 31. Spooky topics covered in the quiz will range from the holiday's history and devilish historical characters, to popular Halloween films and music. (Photo and connection rounds will also feature!)
Oct 26, 9.30pm; free entry. Hooley's Irish Bar & Restaurant.
A jazz band and DJ will be cranking up the super spooky vibe at Jojo's first Halloween party. Bacardi drink specials will be on offer.
Oct 26, 9pm; free entry. Jojo's Riverside. See event listing.
Expect face-painting, rock and electropop music, mummy dances, DJs and more at the 'Amazing Halloween Party' hosted by live music venue Mao Livehouse.
Oct 31, 8-9.30pm; RMB128/RMB188 VIP. Mao Livehouse. See event listing. Tickets.
Put on your scariest Halloween costume and come to this bangin' all-you-can-drink Halloween event at the Roof Top Bar. Expect themed cocktails, house wines, local beers, snacks and a delectable assortment of barbecue, as well as live music from the hotel's resident band.
Oct 31, 6-9pm; RMB498 for two. Roof Top Bar. See event listing.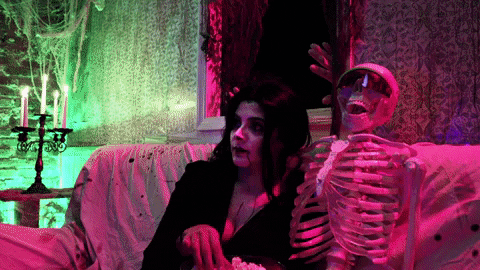 Image via Giphy
Zapata's costume competition is back again on Halloween night, plus free Bacardi daiquiris for the ladies from 9-11pm. A taco buffet will be available from 6-10pm, with free-flow beer and Bacardi daiquiris for RMB50 extra.
Oct 31, all night; free entry, RMB88 taco buffet. Zapata's. See event listing.
Oct 31-Nov 2
Fei bar at W Guangzhou is playing host to a Dust Till Dawn vampire-themed Halloween party featuring a lucky draw. Tickets will include a welcome drink.
Oct 31-Nov 2, 9pm-late; RMB100 early bird, RMB150 at the door. Fei. See event listing.
Nov 1
Come play with the spine-chilling Annabelle at Social&Co. and enjoy buy-one-get-one-free draft beers, wines and mixed drinks.
Nov 1, 6pm. Social & Co. See event listing.
---
For more things to do in Guangzhou, check out our Events Section.

For more Guangzhou event guides, get them sent directly to your phone (along with restaurant reviews, giveaways and other goodies) by adding ThatsGuangzhou on WeChat, liking us on Facebook or subscribing to our weekly newsletter.
If you have an event, upload it to our site through our User Center. It's free, it's easy and it's the best way to get into one of our Event Guides (See our how-to guide here).
[Cover image via Pixabay]