We have compiled a comprehensive rundown of the choice dinners happening in Guangzhou this Christmas season, because who doesn't eat on Christmas? Perhaps a turkey because it's always 'stuffed.' Christmas is an excuse to set aside your diet routine and feast on festive eats offered by fine-dining restaurants in fancy hotels and the best Western eateries around.
Happy holidays and bon appetit!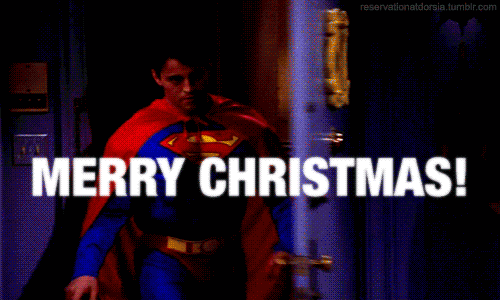 Image via Giphy
Experience the holiday spirit in a traditional Italian setting with a five-course Christmas set menu accompanied by one complimentary bottle of Prosecco. Lucky draws are set to bring great excitement to the series of dinners, which run from December 24 until January 1. For more information and reservations, call 8916 3388.
Dec 24-Jan 1, 6-10pm; RMB998 for two people, an extra RMB218 per person for wine pairing for each course; RMB850 for two people early bird, available until December 20. All prices are subject to service charge and tax. Alfresco (Langham Place, Guangzhou).
Caffe Mondo offers a delectable selection of Italian cuisine, including fresh seafood, handcrafted pizza and pasta, authentic antipasto and dessert, among other Italian culinary delights. Dinner buffets on Christmas Eve and Christmas Day come in various prices. Call 8883 3901 for more information.
Dec 24-25. Caffe Mondo (Four Seasons Hotel Guangzhou).
Folks in Zengcheng District can enjoy a Christmas buffet at Aqua Café, which offers a turkey slash seafood feast and will also present a snowman-themed performance.
Dec 24, 6-9.30pm; RMB499 per adult, RMB199 per child, RMB1,088 for two adults and one child, RMB1,988 for four adults and two children. Aqua Café (Crown Plaza Guangzhou Zengcheng).
On Christmas Eve and Christmas Day, Gail's is preparing an American-style holiday meal, featuring an all-you-can-eat-and-drink turkey feast. Call 3759 4226 or 8928 0920 to make your reservation.
Dec 24-25, 6.30-10pm; RMB258 presale, RMB288 at the door, RMB140 for children between 4 and 10 years old, free for children under 4 years old. Gail's American Cuisine & Bar.
With snowflakes, fairy lights, roasted turkey and log cake, you can dine amidst a very Christmas-y vibe at G Restaurant on Christmas Eve. Enjoy freshly shucked oysters, 5J Iberian ham, festive desserts and other delicious eats on the day. For Christmas promotions at other venues in Grand Hyatt Guangzhou, call 8396 1234.
Dec 24; RMB799 per adult, including free flow of select red/white wine, beer, soft drinks and signature cocktail Gegroni, RMB419 per child, prices are subject to 15 percent service charge and tax. G Restaurant (Grand Hyatt Guangzhou).
The iconic Guangzhou hotel has a few gourmet offerings: at Carousel on the 30th floor, a buffet dinner with a free flow will be served and a luxurious holiday menu will be available at The Connoisseur.

Dec 24-25; various prices. LN Garden Hotel, Guangzhou.
This holiday season, Mandarin Oriental, Guangzhou will serve up a variety of Christmas events and promotions for Yuletide revelers to enjoy, including a number of holiday-themed cakes at The Mandarin Cake Shop, a Christmas-y afternoon tea at The Taikoo Lounge and sumptuous feasts on Christmas Eve, Christmas Day and New Year's Eve at Ebony. Call 3080 8888 for more details on holiday promotions.
Dec 24-25, various times; afternoon tea at The Taikoo Lounge: RMB428 for two, available daily until Jan 4, Christmas/New Year dinner buffet at Ebony: RMB828 per person, RMB1,188 for two, all prices are subject to 15 percent service charge. Mandarin Oriental, Guangzhou.
Looking for something a little different this Christmas? We recommend checking out the amazing meal sets on offer at one of our favorite Guangzhou burger joints: M'eat. The first holiday set is the 'Christmas burger set,' which costs RMB188 and comes with three holiday-inspired mini burgers, nachos, a salad and a pasta dish (three options available), along with two Christmas beverages. The second set is the 'Christmas steak set' (RMB268), which comes with a steak plate, a salad and pasta dish (three choices), a choice of either fries or nachos and, finally, both a mushroom and pumpkin soup. Throughout the holiday season, patrons at M'eat can also enjoy a special Christmas burger, which features an array of high-quality ingredients (including caramelized apples, yum!) wedged inside a festive, red bun, and hot holiday drinks.
Dec 22-26, 11.30am-2.30pm and 5.30-9pm; RMB188-268. M'eat.

Celebrate this festive season with family and friends at Mercato where a grand feast awaits. A sharing menu will be offered on both Christmas Eve and Christmas Day.
Dec 24-25. RMB598 plus 10 percent. Mercato.
Join Morgan's annual Christmas Carvery and enjoy a meaty buffet priced at RMB218, which will include a glass of house wine, Tiger or Heineken beer or soft drink. (We can't stress enough how good the pork crackling here is).
Dec 24, 6-10pm; Dec 25, noon-3pm, 6-10pm; RMB218. Morgan's Public House.
A generous three-course set meal combining classic Christmas dishes and Morton's special, toothsome offers is available for booking.
Dec 24-25; RMB628 plus 10 percent. Morton's Grille.
Indulge in a festive celebration with culinary delights ranging from Christmas turkey and Angus beef to lobster and other imported seafood, as well as a delectable spread of heavenly desserts. Guests can also enjoy a free flow of sparkling wine, house wine and mulled wine. On Christmas Eve, expect live entertainment, a visit from Santa Claus and a lucky draw. For more information call 8916 3388.
Dec 24, 6-10pm; RMB290 per child (6-12 years old), RMB598 per adult, prices are subject to service charge and tax. The Open Kitchen (Langham Place, Guangzhou).
Tea time at Langham Place, Guangzhou is always a grand occasion, and the festive season makes it an even more special time to spend an afternoon celebration with Wedgwood. Enjoy traditional scones and pastries complemented by your favorite variety of tea. For more information call 8916 3388.
Dec 24, 2.30-5pm; RMB268 for two, price subject to service charge and tax. Portal (Langham Place, Guangzhou).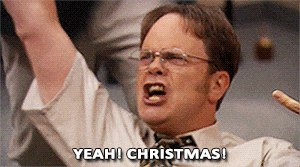 Image via Giphy
Toast this festive season in style at LN Hotel Five's Roof Top Bar, which is set against a backdrop of Guangzhou's nightscape and now jazzed up by the addition of a house band. Christmas dinner for two is coupled with a free flow of house wine.
Dec 24-25, 7.30-10.30pm; RMB688. Roof Top Bar (LN Hotel Five, Guangzhou).
Winner of Healthy Eatery of the Year at our recently concluded That's Food and Drink Awards – Guangzhou, Slow Life Kitchen will cook you a five-course Christmas dinner, serving up some exquisite French dishes and a special dessert. Get a RMB50 discount by booking before December 20.
Dec 24-25. RMB688. Slow Life Kitchen, Slow Life Kitchen Elite.
A set Christmas menu is on offer at Social&Co, including roasted beetroot salad, roast chicken, baked ham and Christmas pudding, while the renowned restaurant's annual Xmas party is to be held on December 19.
Dec 19-25, 6pm; various prices. Social&Co.
Christmas dinner at Wilber's will be as sumptuous and classy as every other year, offering foodies the opportunity to sample Alaskan king crab and avocado salad, risotto with roasted eel and foie gras, among other delicate and delectable dishes.
Dec 24-25. RMB1,520 for two. Wilber's.
---
For more things to do in Guangzhou, check out our Events Section.

For more Guangzhou event guides, get them sent directly to your phone (along with restaurant reviews, giveaways and other goodies) by adding ThatsGuangzhou on WeChat, liking us on Facebook or subscribing to our weekly newsletter.
If you have an event, upload it to our site through our User Center. It's free, it's easy and it's the best way to get into one of our Event Guides (See our how-to guide here).
[Cover image via Pexels]