That's Shanghai takes a look at some of the best upcoming F&B events:

---
Aug 15-Sep 15: MissGreen Eatery

Flyer courtesy of MIssGreen
Following up on their successful privately-held events in Beijing and Shanghai, Taipei's MissGreen returns to Shanghai with their most popular vegan Sichuan-style bar snacks, to pair with Bar Lotus' unique cocktails. Delights include MissGreen's signature mushroom and tofu bao, Sichuan spicy veggie sticks and sour cream deep-fried veggie balls.
Aug 15-Sep 15, 7pm, from RMB51. Bar Lotus, see event listing.
---
Aug 22-Sep 1: Peranakan Cuisine

Flyer courtesy of URBAN Café
Celebrity chef Paul Then takes over URBAN Café to showcase his own take of Peranakan cuisine, also known as Nyonya. The cuisine is an eclectic mix of Chinese ingredients, which incorporates various distinct spices and cooking techniques used by the Malay. The combination of tangy, pungent, aromas and spices are sure to leave a lasting impression.
Aug 22-Sep 1, RMB198-268. URBAN Café, see event listing.
---
Aug 30: Wine O' Clock

Flyer courtesy of Below
The Good Food People will be popping up at Below for Wine o'clock! Relax and enjoy buy one get one deals on selected bottles of wine as well as by the glass specials and small bites. Yummy nibbles include cold cuts cheese, seafood and more.
Aug 30, 7pm. Below, see event listing.
---
Aug 31-Sep 1: Carlos Sotomayor x Highline

Flyer courtesy of Highline
We were not happy campers when Peruvian eatery, Ekeko closed abruptly in June. After a stint cooking Peruvian treats as part of Cages FIFA Word Cup international food festival, Chef Carlos Sotomayor is still on the map. Sotomayor takes over Highline for two days, where he'll showcase a tantalizing, six-course Nikkei dinner.
Aug 31-Sep 1, RMB398. Highline, see event listing.
---
Aug 31-Sep 2: Late Night Donut Shop at Madison Kitchen

Flyer courtesy of Happy Ending
If you want to over indulge yourself in glorious donuts, then Happy Ending is just what you need. Between August 31st and September 1st, they'll be having a pop-up at Madison Kitchen, offering a plethora of glazed delights. Their exclusive selection includes Raspberry Beret, Lemon Crème Brûlée, Rainbow Chocolate and Golden Arches.
Aug 31-Sep 2, 9pm. Madison Kitchen (Donghu Lu), see event listing.

---
Sep 1: End of Summer Market

Flyer courtesy of promoter
Eat, drink and shop at THE PLACE Rooftop, who are hosting this year's end of summer market, with a variety of goods on sale. There will be plenty of wine courtesy of wine vendors BottlesXO plus food from Homeslice Pizza, Urban Diner and more. Proceeds from the will be donated to The Library Project, a charity that builds libraries in migrant villages.
Sep 1, 10-6pm. THE PLACE Rooftop, see event listing.
---
Sep 1: The Rooster Charity Clothing Drive

Poster courtesy of The Rooster
The Rooster host another charity clothing drive, to benefit The Renewal Center! Swing by on September 1st and 2nd, any time after 3.30pm to donate your clothes and receive a free pint of Vedett beer for your good deed!
Sep, 3.30pm. The Rooster (Jing'an), see event listing.
---
Sep 1-2: Latin Nations 3rd Edition
Poster courtesy of Latin Nations Inc
Latin Nations Festival returns for its third edition! Swing by and be met by music, delicious food and mingle with great people. There will also be a raffle with an incredible prize - a round trip and day tour to Mexico, Argentina or Ecuador, as well as one year membership at WeBox Gym.
Sep 1-2, 12-11pm Sat, 12-10pm Sun. Ala Town Venue, see event listing.
---
Sep 2: September Anti-Oxidant Vegan Brunch

Image courtesy of M Glam

Start September off right by detoxifying your body at M Glam with their special ANTI-OXIDANT vegan menu. They've chosen a range of products that are fresh and vitamin rich, leaving you feeling nourished with glowing skin. The menu is not only completely plant-based, it is also gluten-free and delicious.
Sep 2, 11.30-2.30pm, RMB328. M Glam, see event listing
---
Sep 4-5: Shanghai TopWine and Food Fair

Image courtesy of event organizer
Calling all food and wine aficionados. The Shanghai TopWine and Food Fair will be taking the city by storm next week. The three-day event will be dedicated to all things food, wines and spirits Indulge yourself into a plethora of gourmet foods, wines and drinks. There will be over 150 different fine wines to try out, as well as seminars and masterclasses by Masters of Wine Experience.
Sep 4-5, 10am-4pm, RMB198. Shanghai New International Expo Center (SNIEC), see event listing.
---
Sep 4-8: Arnd Henning Heissen at The Portman Ritz-Carlton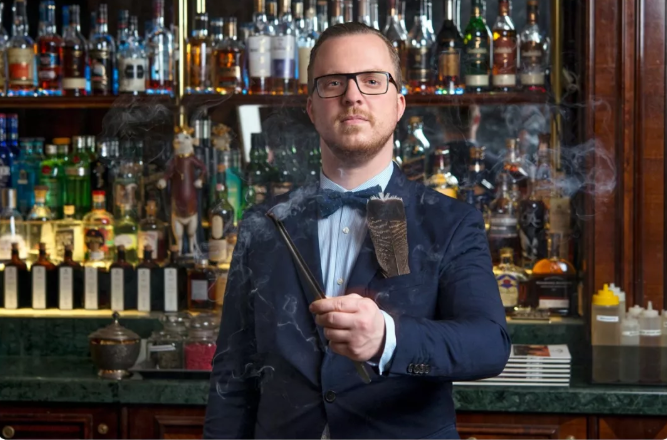 Image courtesy of the Ritz-Carlton Shanghai
The award-winning bar manager comes all the way from Germany to delight guests at the Ritz Bar & Lounge. He'll be behind the bar telling stories via six creative classics or 'liquid sculptures' (his words) from the menu at The Curtain Club, which he manages in Berlin. Get ready to be swept up on an enchanting journey for all your senses by this master of aromas and colors.

Sep 4-8, 7pm-late. The Ritz Bar & Lounge, see event listing.
---
Sep 5-8: Joe Schofield at 1515 West Bar

Poster courtesy of 1515 West Bar

1515 West Chophouse and Bar welcomes award-winning mixologist Joe Schofield to for a four-night guest shift at The 1515 West Chophouse and Bar. Schofield will be serving five of his avant-garde cocktails which will invoke a series of rousing memories and emotions.
Sep 5-8, 6pm-late, RMB138 per drink. 1515 West Chophouse and Bar, see event listing.
---
Sep 5: Meet Brewdog Founder and Head Brewer

Flyer courtesy of The Hop Project

Brewdog co-founder and master brewer Martin Dickie heads to the Hop Project in this exclusive meet and greet. Dickie has continually pushed the boundaries of brewing in the UK with styles and flavors inspired by beers across the world. Have the privilege of trying up to six of his Brewdog beers, the new "Mallow Mafia" (a massive 12% brew) Coffee and Chocolate and Marshmallow Russian Imperial Stout!
Sep 5, 7pm. The Hop Project, see event listing.
[Cover image via URBAN Café]

---
Get more Shanghai event guides sent directly to your phone (along with restaurant reviews, giveaways and other goodies) by adding Thats_Shanghai on WeChat, liking us on Facebook or subscribing to our weekly newsletter.
If you have an event, upload it to our site through our User Center. It's free, it's easy and it's the best way to get into one of our Event Guides.