Looking to host your own Thanksgiving feast with your Guangzhou family? Here's a roundup of turkey deals available in Guangzhou to have you feasting in no time.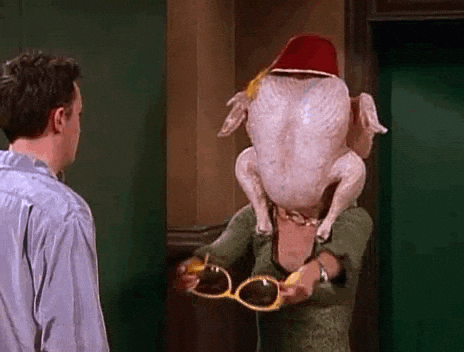 Image via Giphy
Corner's Deli is selling frozen turkeys for RMB100.3 per kilogram. If you want your bird cooked for you, that service is also available for RMB380.
RMB100.3 per kilogram. See listings for Corner's Deli.
Enjoy delicious, succulent turkey expertly prepared by chefs with all the traditional tasty trimmings and your favorite side dishes. Leave the cooking to them, so you can enjoy a festive time with your loved ones. Prices start from RMB1,488 per turkey, including traditional side dishes. For more information, please call 8883 3917.
Starting from RMB1,488 per turkey, including traditional side dishes. Four Seasons Hotel Guangzhou.
You can order a fully cooked turkey and side dishes online at Guangzhou Grocery. Prices range from RMB788 to RMB988 depending on size, and each order includes turkey gravy, stuffing, mashed potatoes, green bean casserole and cranberry sauce.
RMB788-RMB988. Click here to shop.
Another viable online option for ordering a festive bird, JD.com offers US-imported pre-cooked and frozen turkeys.
Various prices. Click here to shop.
The LN Garden Hotel Guangzhou have traditional roasted turkey set meals that are hard to pass up. For RMB688, you can order a roasted turkey with three sides; RMB778 will get you the big bird and five sides; while RMB888 includes turkey with seven sides. Sides range from roasted broccoli with cheese sauce and cranberry chestnut stuffing to mini corn bread muffins and baked sweet potato. Each order comes with cranberry sauce and pan gravy. Guests need to place an order at HSD Cafe three days in advance, and will need to pick up their order at the hotel. Call 8333 8989 for more info.

RMB688-888. LN Garden Hotel Guangzhou.
Order your very own holiday bird at Mezomd, priced at RMB688. The Spanish Restaurant will be accepting orders until November 26. On Thanksgiving day, swing by their Canton Place and Clifford Wonderland restaurant locations to enjoy buy-one-get-one deals on drinks. Call 3831 0351 for more info.
RMB688 per turkey. Mezomd.
Purchase a turkey at Ole for RMB119.8 per kilogram, or snag a cooked turkey for RMB738. Each bird is said to weigh roughly 5 to 6 kilograms.

Various prices. Ole (Taikoo Hui).
You can't begin to spell turkey without Taobao, which is arguably the best place for penny pinchers (like ourselves) to buy a quality bird. Search 'turkey' (in English) on Taobao and you'll see a wide range of birds available both pre-cooked and frozen. While you're at it, you can pick up stuffing and other classic holiday side dishes on the e-commerce site.
Various prices. Click here to shop.
The Eating Table is serving up tasty turkey this Thanksgiving, which is available for dine-in or takeaway. Their holiday offer is priced at RMB768 for roughly 6 kilograms of delicious turkey. For more information, call 8398 0860.
RMB768 for 6-kilogram turkey (reserve your turkey before November 24 at 6pm). The Eating Table.
READ MORE: Where to Dine for Thanksgiving 2019 in Guangzhou
For more helpful guides to living in Guangzhou, click here.
[Cover image via Unsplash]