They say that if you truly love someone, then every day is Valentine's Day. We beg to differ, because, frankly, it's not every day that you can attend romance-fueled events and take advantage of epic hotel deals. With this in mind, we've rounded up some of the best, most romantic ways that you can spend Qixi, otherwise known as Chinese Valentine's Day.
---
We can think of no better way to take a load off then by dancing the night away this Wednesday at 8, Faubourg Bar and Terrace. That's right, on Wednesday you won't want to miss 'Tango Night,' an evening full of dancing, boozy challenges and awesome prizes! For only RMB99, attendees will receive a welcome drink and enjoy 30% off select refreshing beers for the entire night.
Click here or scan the QR code below to purchase tickets.
Wed Aug 7, 8pm-midnight; RMB99. 8, Faubourg Bar and Terrace. See event listing.
Enjoy a set menu this Wednesday at Bandidos in celebration of love, partnership and couples bound by illegitimate children – no judgement here, folks. At RMB298 per couple, you can enjoy tacos, soup, steak and more!
Wed Aug 7, 4pm-midnight (while supplies last); RMB298 per couple. Bandidos Mexican Cantina.
What's the best way to celebrate love? Food lovers would say a romantic dinner. If you agree, come to G Restaurant this Chinese Valentine's Day for a lip-smacking meal tailor-made for this special occasion by the restaurant's executive chef. Call 8396 1234 ext. 3423 to place your reservation.
Wed Aug 7; RMB999 plus 15%. G Restaurant. See event listing.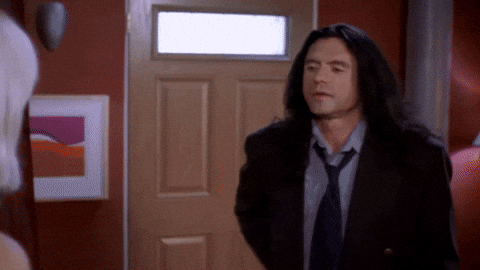 Image via Giphy
This Qixi Festival, enjoy some quality time with your significant other in a romantic setting at the Langham Place, Guangzhou. This year's Michelin Plate-winning restaurant Ming Court is offering guests a six-course menu featuring innovative delicacies paired with two glasses of sparkling wine. Two Italian chefs – Alfresco's Head Chef Andrea and Executive Pastry Chef Francesco from The Langham, Shenzhen – will team up to bring you an authentic Italian dining experience at Alfresco. Also, a signature 60-minute massage for couples is on offer at one of Chuan Spa's luxurious couple treatment rooms. Call 8916 3388 for more information.
Wed Aug 7, various times and prices. Langham Place, Guangzhou. See event listing.
On Chinese Valentine's Day, a concert will be staged for lovey-dovey couples at Xinghai Concert Hall, featuring a moving medley of movie scores like 'Yesterday Once More,' classics such as The Beatles' 'Hey Jude' as well as some of MJ's hit songs. These will all be performed by instrumental band Music Fan Classical, who boast a contemporary classical style.
Wed Aug 7, 8pm; RMB199-720. Xinghai Concert Hall. See event listing. Tickets.
---
There's no such thing as too many parties. If we missed your Valentine's get-together, post it to our events page.
[Cover image via Pixabay]