That's Guangzhou takes a look at the best gigs of the weekend.
---
Fri-Sun, June 21-23: Music Day 2019 @ Shunfengshan Park

Image via the Consulate General of France in Guangzhou
From June 21 to 23, Shunfengshan Park in Shunde will again play host to the Music Day festival, a three-day (we know, the name is a tad deceiving) celebration of French and Chinese music. Don't miss this amazing chance to see French quintet 'Le Concert impromptu,' who will be performing on June 21 at 8pm. Additionally, catch French hip hop artist Ore and trap artist Dlyn/Ynsm, along with Chinese hip hopper Vyan, on the evening of June 22. The following day, a selection of Chinese and French rock bands will hit the stage to wow audiences with a selection of punk and jazz rock.
Fri-Sun, Jun 21-23, 7pm; free. Shunfengshan Park. See event listing.
---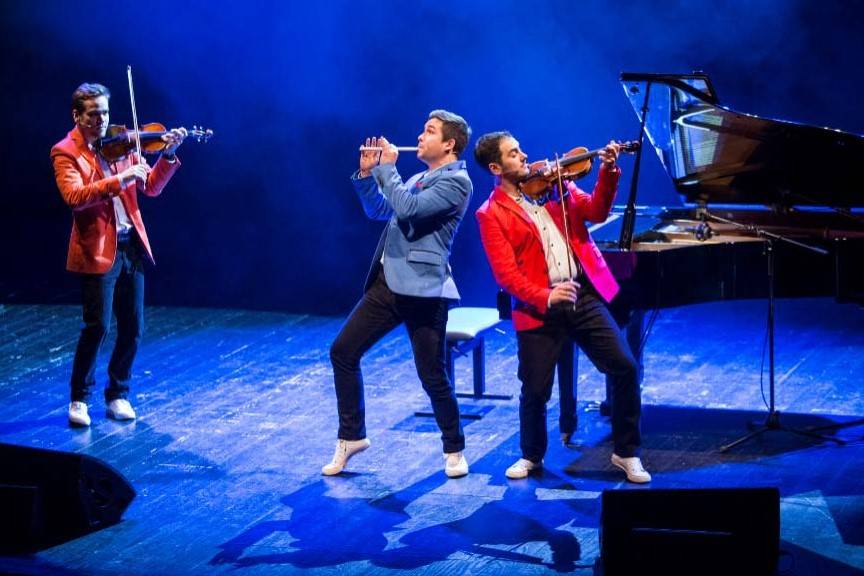 Image via 247 Tickets
This isn't your ordinary music show. The Three X are a modern instrumental trio known to bring comedy into the mix. They showcase a wide range of music styles that set them apart from other acts. See what this unique group is all about when they perform at the Guangzhou Opera House – Experimental Theater on Saturday.
Sat Jun 22, 7.30pm; RMB380-580. Guangzhou Opera House – Experimental Theater. See event listing. Tickets.

---
Sun, Jun 23: Cécile Corbel @ Mao Livehouse

Image via Cecile Corbel website
Her red hair and Gaelic heritage firmly cement her in the Celtic world. French singer-songwriter Cécile Corbel picked up the harp at 15 years old, and later developed a fondness for a range of mythologies, which has greatly impacted her music. What's more, Corbel can sing in English, French, Italian, Spanish, Breton and Gaelic, among other languages. After a successful performance in Guangzhou two years ago, Corbel is back with her new album, Enfant du Vent.

Sun Jun 23, 8.30pm; RMB160 presale, RMB200 at the door. Mao Livehouse. See event listing. Tickets.
---
For more things to do in Guangzhou, check out our Events Section.
For more Guangzhou event guides, get them sent directly to your phone (along with restaurant reviews, giveaways and other goodies) by adding ThatsGuangzhou on WeChat, liking us on Facebook or subscribing to our weekly newsletter.
If you have an event, upload it to our site through our User Center. It's free, it's easy and it's the best way to get into one of our Event Guides (See our how-to guide here).
[Cover image via Cecile Corbel website, 247 Tickets, Consulate General of France in Guangzhou]