Tottenham Hotspur and Liverpool FC will take to the pitch in Madrid this weekend to see who will become the 2019 UEFA Champions. For folks in Canton, the game kicks off at 3am on Sunday morning (not ideal, we know), which means only one thing: a looong night of boozin'.


Image via sayingimages.com
Liverpool is looking to cap off a memorable season after narrowly losing out on the highly coveted Premier League title to Manchester City last month. But despite two loses to the Reds in the Premier League this season, the Spurs have shown the determination to cause upsets in recent matches.
Will the underdogs come out on top? Grab a seat (if there's room) at one of these Guangzhou haunts to find out:
Grab yourself a pint (or four) and watch the last two remaining teams go head-to-head in what's expected to be a thrilling final.

Make your way to Ginstar in Zhujiang New Town during the wee hours of Sunday morning for an epic football league final.

See listing for Ginstar (Zhujiang New Town).

Hooley's will be hosting a watch party for the all-English final at 3am, with the bar's full drink menu and snacks available for order.
Morgan's will extend its hours into early Sunday morning for patrons to watch the Champions League Final. Football fans can enjoy buy-one-get-one on Tiger pints from midnight till 5am.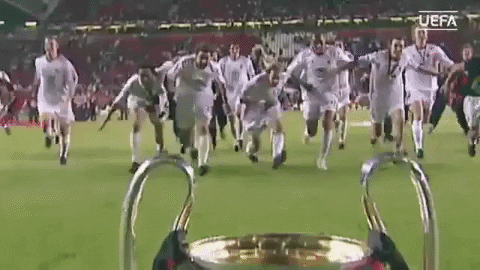 Image via Giphy
The Paddy Field in Taojin will be open for business till the title is won, keeping the kitchen open late for football fanatics.

See listing for The Paddy Field.
Head over to Zapata's at Party Pier to catch a live showing of the league final.
---
For more things to do in Guangzhou, check out our Events Section.
For more Guangzhou event guides, get them sent directly to your phone (along with restaurant reviews, giveaways and other goodies) by adding ThatsGuangzhou on WeChat, liking us on Facebook or subscribing to our weekly newsletter.
If you have an event, upload it to our site through our User Center. It's free, it's easy and it's the best way to get into one of our Event Guides (See our how-to guide here).
[Cover image via @shamsulbahrihasamdin/Instagram]