St. Patrick's Day is upon us, which means it's time to sport your greenest outfit, blast some Irish tunes and drink like no one's watching. As a city we are prepared to celebrate good ol' St. Patrick's Day the 'right' way, with a weekend of constant drinking and partying.

We've rounded up some of the best St. Patrick's Day parties and specials and we'll keep updating this guide until the day of. So, throw on some green gear and celebrate with Guangzhou's lads and lasses in true Irish style.

Image via Irishslang
On Saturday, Bandidos is getting into the Irish action with green beer and margaritas. The Mexican cantina is offering six shamrock shooters for RMB150 as well as three tacos for RMB30 to celebrate Día de San Patricio.
Mar 16, all day. Bandidos.
On St. Paddy's Day, come to Bravo where four green Bravo logos are hidden. Find and take photos of them to be awarded with a pint of the limited The Wizard of the OZ green beer.

Mar 17, all day. Bravo.
Canton Tower has organized the largest St. Patrick's Day celebration in Guangzhou for the past seven years, bringing together people from all walks of life for a weekend of fun. The 8th Canton Tower St. Patrick's Day celebration will be held this Sunday, March 17.
Come to this international festival to celebrate Irish culture with a themed parade, Irish dancing, special food and beer offerings, a DIY fair, Celtic bagpipe performances and a whole lot of fun. The Canton Tower will even turn green to give Guangzhou a little 'luck of the Irish.'
Sat-Sun March 16-17, camping on Saturday night from 5pm to 9am the following day; carnival from 4pm to 7pm on Sunday; RMB30 for camping, RMB30 for carnival. Canton Tower. See event listing.
From March 15-17 Gail's is serving up some St. Paddy's themed food, including Shepherd's pie (RMB78) and St. Patrick's Day burger with mozzarella cheese (RMB88), while green beer, margaritas and Jameson are available at special prices.
Mar 15-17. RMB25 for green beer, one shot of Jameson; RMB30 for green margarita. Gail's American Cuisine & Bar.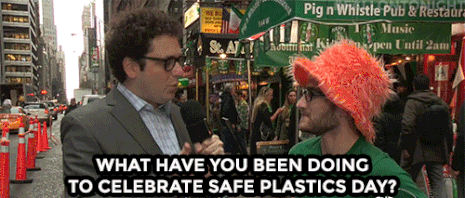 Image via Giphy
Stop by Hooley's this weekend for St. Patrick's Day specials on food and drinks. Buy two Guinnesses and get one free; also enjoy a buy-one-get-one free deal on select drinks during an 'Irish' happy hour from noon till 8pm. Meanwhile, Guinness pie, Irish lamb stew and fish and chips will be sold for just RMB58.
Mar 16-17, happy hour: noon-8pm. Hooley's Irish Pub & Restaurant.

Head over to Morgan's and try their specially-made Irish stew comprised of lamb, carrots, onions and potatoes. Other specials include the beef and Guinness pie, priced at