A viscous fire tore through the heart of one of China's oldest Catholic cathedrals in the early hours of Monday morning, laying waste to the 140-year-old Gothic church.
Eleven fire engines with other 50 firefighter spent two hours extinguishing the blaze, which broke out at 12:48am and quickly engulfed the timber framework.
The inside of the historic building and Ningbo landmark has been described as "totally destroyed." Thankfully, the fire did not spread to any other of the areas historic architecture.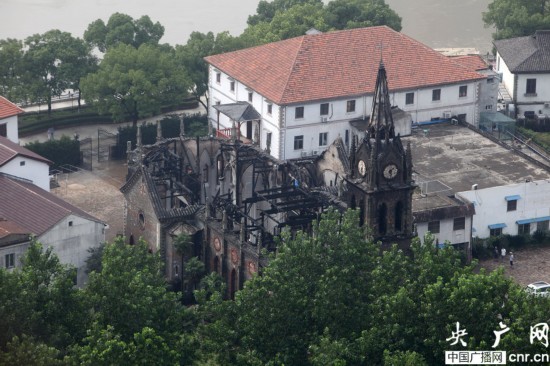 Provincial officials in eastern Zhejiang Province have been accused of igniting a "Cross Demolition Movement" since April this year, destroying the crosses of an estimated 200 places of worship as well as leveling the towering Sanjiang Church, which had only just completed construction.
Bloody street battles broke out in Wenzhou recently when devotees at another historic church surround their church compound to protect the cross from an army of police and chengguan.
Investigations into the Ningbo fire are still underway and presently no connections can be drawn between the tragic loss of this national treasure and the perceived anti-Christian crackdown.