An artificial waterfall in Southwest China has attracted some controversy online for its expensive electricity bills.
The 108-meter-high waterfall cascades from a skyscraper in Guiyang, Guizhou Province. The waterfall uses four large pumps to move water to the top of the structure, according to ECNS.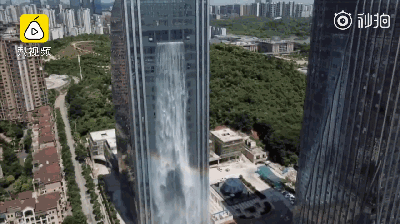 Image via Pear Video
A video of the waterfall recently went viral on social media, with users calling it a massive waste of both money and water. The electricity bill for the waterfall for just one hour is said to be RMB800 (USD118).
Other social media users have mocked the design of the waterfall, saying it looks like a water pipe is leaking.

Image via People's Daily

Image via People's Daily
Responding to criticism, a manager of the building told local media that the waterfall is only put to use occasionally — such as for big city events — and runs for just 10 to 20 minutes at a time. He also noted that the attraction uses recycled water from taps, rainfall and other sources.


Image via Dongguan Sunshine Network

Image via People's Daily

Image via People's Daily

Image via People's Daily
The manager also added that it is the highest waterfall in the world and is intended to increase travel to Guiyang. Only time will tell if tourists will go chasin' artificial skyscraper waterfalls.
[Top image via People's Daily]