A sports equipment company in Guangzhou was forced to issue an apology this holiday long weekend, after one of its staff was caught taking upskirt photos at a high school football tournament.
The company in question, perhaps ironically named Guangzhou Love High Sports Equipment Co., Ltd., was forced to issue a letter of apology – in which they claim the pervy male is a "trial employee."
The incident occurred on May 27, according to Tencent News, when the abovementioned pervert whipped out his phone and began filming up a woman's skirt. The unnamed man was denounced by numerous bystanders, but was unperturbed and continued with his invasive videotaping.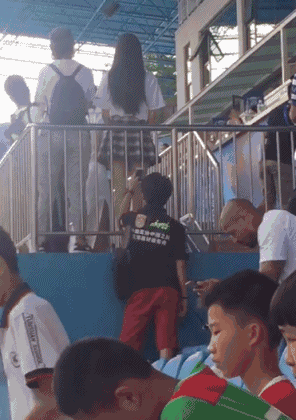 Police were alerted to the man's biantai video project and he was taken to the police station. Guangzhou Love High Sports Equipment is apparently cooperating with public security authorities to deal with the incident, which is currently under investigation by police.
READ MORE: Student Caught 'Upskirting' on Shanghai Metro

[Images via Tencent News]