As if 2020 wasn't scary enough, let's make it official on October 31. So get your sh*t together, and hit up your local costume store or host a clothing swap for some fun costumes. With that, here is our guide for some fun Halloween-themed events happening around town.

---
Friday, October 30

Day of the Dead Beer Pong Tournament
Who will be the last pongbender? Eight teams of two, make sure to sign up! Six tequila shots only for RMB120 as well!
Fri Oct 30, free entry. Tequila Coyote's.

Pumpkin Carving & Trick-or-Treating
Perfect for the kiddos, there will be free pumpkin carving and trick-or-treating through Sea World organized by NSIC.

Fri Oct 30, 5pm; free entry. Nanshan International Cultural Exchange & Service Center. Sign up.

Sleepy Hollow-een @ The Ritz-Carlton
There's no better place to show of your Halloween costume this year than at a poolside rooftop under the full moon. For more info click here.
Fri Oct 30, 7pm-midnight; RMB268 at door for gentleman, ladies free entry. The Ritz-Carlton, Shenzhen. Tickets.
Halloween Party Oktoberfest

The Venice Raytour Hotel Shenzhen's 14th annual Oktoberfest event is on. Great food, beer, awesome entertainment and great activities will be on for two weekends in a row. Check with the hotel for special group discounts.
Fri-Sat Oct 30-31, RMB348-597. Cafe Zentro. Call 2693 6888-8117 to book.
Horror Halloween Night @ Long Bar
In collaboration with Veuve Clicquot, Long Bar will transform into a spooky fun party. Le Soleil will be on deck. Raffles Hotel will also have Halloween-themed afternoon tea and dinner buffet. Click here for more info.
Fri-Sat Oct 30-31, 8pm-1am; RMB268 early bird. Long Bar.
Saturday, October 31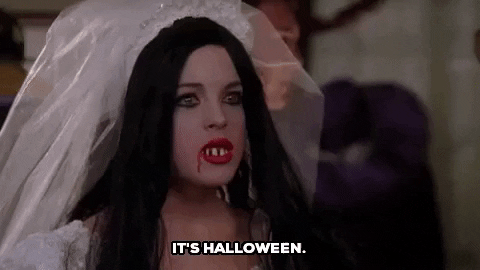 Image via Giphy
Day of the Dead Costume Party
Margaritas, tequila, beer! DJs will be livestreamed from Mexico, get your best costume ready. As usual there will be great drink deals: six tequila shots only for RMB120.
Sat Oct 31, 7pm; free entry. Tequila Coyote's.
Kink Trick or Treat
Get ready for Kink: Trick or Treat! With three great DJs, special drag king and queens and amazing dance and gogo shows, you'll love every minute of this Halloween party and resort weekend at the fabulous hilltop resort within Qiushuishan Park. Party for RMB148 (which includes a free drink), or book a room and stay for Sunday Fun Day.
Sat Oct 31, 2pm-late; RMB148. See event listing.
Latin Party @ Baia
Baia Burger is hosting their annual Halloween Latin Night! Entry is free but going early is recommend as there is limited space. There will be a live DJ, two-for-one tequila shots and costume contest.
Sat Oct 31, 10pm; free entry. Baia Burger Concept.
Lost Realm
PandoraParties is back with their annual Halloween bash. Last year, over 500 guests attended their two-day celebration. This year the bash is at Jazz Garden.
Sat Oct 31, 9pm-4am. RMB128-198. Jazz Garden. See event listing. For tickets, add WeChat ID: PandoraParties.
Halloween BBQ Party @ George & Dragon
A fully American-style backyard barbecue for a very American holiday. Enjoy their scrumptious buffet of buffalo wings, burgers and hot dogs accompained by mac & cheese, mashed potatoes, salad and corn-on-the-cob.
Sat Oct 31, 7-9.30pm. RMB118. George & Dragon. Book your table by contacting 159 8794 9007 by phone or WeChat.
Halloween Party @ Terrace
Wear your best costume and win fabulous prizes, including a RMB3,000 RMB voucher. Terrace will also have a professional makeup artist from 8-11pm. Enjoy free makeup to match your cool costume.
Sat Oct 31, 7pm; free entry. Terrace.
Halloween Zombie Crawl
Crawl through six venues, enjoy six free drinks (choose between beers, mixed drinks and more) and enter two costume contests for a chance to win up to RMB3,000 in prizes! Click here for more info.
Sat Oct 31, 8pm; admission is free with any purchase on EatForCharity. Start at Indian Spice Seaworld.

Hola
Celebrate a traditional Mexican holiday, Day of the Dead, and enjoy a delicious buffet and drink promotions at Hola in Futian.
Sat Oct 31, 6-10pm; RMB138/person. Hola.

Horrific Halloween @ Oil
Ready to dance? Head over to Oil to celebrate Halloween with the hottest DJs in town. Lineup includes
Osheyack, Frozen Lolita, OFFSKII, Sulk, ingziing and Beta Lava. See more info here.
Sat Oct 31, 9.30pm; various prices. Oil. See event listing. Tickets.
Halloween Party @ Mix'd
All you can drink Craft Head beer from 8pm-midnight (Pacific Ale, Ginger Ninja, Exit Plan, Hard Seltzer) for RMB150. All you can drink Tiger Draft from 8pm-midnight for RMB100 and one free beer or mixed drink for those in costume.
Sat Oct 31, 8pm-midnight; free entry. Mix'd.
The House of Halloween: Hullabaloo @ The Brew
So many fun things happening at the Brew: ghoulish drink specials, Dave's birthday and pop, rock, funk and soul music. Of course, there's a costume contest and prizes!

Sat Oct 31, 9.30pm-late; free entry. The Brew.
Haunted House Party
Hosted by Brazilian DJ Sam and MC Geoffrey, the dress code is obviously, Halloween! Ticket includes: return bus travel from Shekou (leave 1pm back 2am), Halloween house party from 2-8pm and free entry plus one drink at Barb Club.
Sat Oct 31, 1pm-2am; RMB100. Bao'an. Scan the QR code for tickets.
Seasalt Sessions: Halloween Party
Voucher prizes will be given to the best costumes! Ticket holders can enjoy a 10% discount Halloween day before 9pm as the kitchen will close then but appetizers will still be available upon request.
Sat Oct 31, 9pm; RMB100-150. Salt & Talk.
Wine & Vampires @ Alcove
A fun evening which will include specially curated snack platters, an exquisite selection of red wines, a Halloween makeup booth, a spooky playlist and much more! Limited availability, so book now to reserve your table. For more details, click here.
Sat Oct 31, 8pm; 2,288RMB for four. Alcove.
Sunday, November 1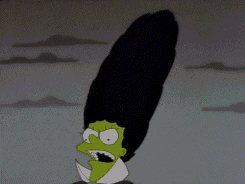 Image via Giphy
Silent Disco Glowga
Halloween Silent Disco Glowga is a 75-minute glow in the dark yoga with spooky beats, body painting plus free flow of healthy drinks and a wellness afterparty. Remember to bring your own yoga mat! See more info here.
Sun Nov 1, 5-8pm; RMB388. Residence G. Tickets.
---
For more Shenzhen event guides, get them sent directly to your phone (along with restaurant reviews, giveaways and other goodies) by adding ThatsShenzhen on WeChat, liking us on Facebook or subscribing to our weekly newsletter.

If you have an event, upload it to our site through our User Center. It's free, it's easy and it's the best way to get into one of our Event Guides (See our how-to guide here).
[Cover image via PandoraParties]