Thanksgiving is not a good day to be your pants. In Shenzhen, you'll find ample opportunities to gorge yourself with a holiday feast. We remind you, though, to place your reservation in advance in order to enjoy this food-centric American holiday with traditional goodies and creative eats.
---
Celebrate Thanksgiving the Italian way with Alla Torre's delicious set menu. For starters, choose between clam chowder or mussels and for your main pick between Tuscan sausage risotto and veal tenderloin with polenta. For dessert, enjoy a chocolate soufflé that'll hit the spot. There will be Thanksgiving drinks on offer as well. For more pictures and information, click here.
Thu Nov 28, 5pm; RMB298 for two. Alla Torre.
The Thanksgiving menu will be offered from November 28 until December 1! Indulge in a healthy set meal including pumpkin soup with organic bread, autumn kale feta salad, traditional roasted turkey with roasted potatoes and of course, pumpkin pie for dessert. Please make your reservation in advance, call 2689 3469.
Thu-Sun Nov 28-Dec 1, RMB198 for one. Emily's Cafe.
Join George & Dragon British Pub for your traditional Thanksgiving dinner buffet. Indulge on turkey, stuffing, gravy, cranberry sauce, green bean casserole, mashed potatoes, sweet potatoes, brussel sprouts, corn on the cob, garden salad and apple or pumpkin pie for just RMB198! Contact them via mobile or WeChat (159 8794 9007) for more information and to make your booking. Reservations required.
Thu Nov 28, 7pm; RMB198. George & Dragon.
Feast on a hearty turkey dinner from the chefs at Mercado in InterContinental Hotel. The turkey is sourced from the prairies of Chile, pumpkin pie is housemade and there will also be a complimentary glass of red wine for each guest. For more information, click here. To note, one day advanced booking is required.
Thu Nov 28, 5.30-9.30pm; RMB330/person. Mercado.
Enjoy a wonderful Thanksgiving evening at Kempinski Hotel Shenzhen, the perfect time to celebrate with loved ones at Seasons Restaurant. Dinner will feature stewed mussels served with white wine, grilled cod with butter and herbs, crispy grilled Norwegian salmon, oysters, blueberry cherry cake, tiramisu as well as roasted turkey and baked ham.
Thu Nov 28, 5.30-9.30pm; RMB428/person. Kempinski Hotel Shenzhen.
Celebrate the holidays with Latina's Brazilian BBQ favorites plus a special buffet featuring slow-roasted turkey, cranberry sauce, creamy mashed potatoes and more. All-you-can-eat and drink options as always!
Thu Nov 28, 5pm; RMB258 for one. Latina.
Irish pub and restaurant McCawley's, which has three outlets in Nanshan, Futian and Peninsula, presents a Thanksgiving dinner featuring roasted turkey, slow-baked ham leg, apple cranberry sauce, herbed gravy, buttered vegetables, along with a variety of other Thanksgiving favorites. Book three days in advance to get an early bird price. For more information, click here.
Thu Nov 28, 6.30-9.30pm; RMB198-240. McCawley's.
Snake Pit is offering a RMB788 delivery pack for a whole 6-kilogram Utah turkey with gravy and stuffing. Alternatively, head to Snake Pit on November 28 for cider roast Utah turkey with leeks, apple, bread stuffing, gravy and a solid set of traditional sides (mashed potatoes, corn on the cob, butter vegetables, salad plus apple or pumpkin pie!) This great dine-in deal is RMB98 per person. Add WeChatID: Voytyuk to reserve your turkey or spot for dinner.
Thu Nov 28, 4-11pm; RMB98. Snake Pit.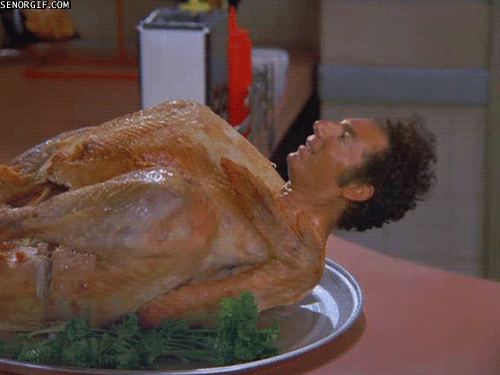 Image via Giphy
Chef Fernando has prepared a delicious mustard ham cooked in-house, stuffed turkey breast and buttered vegetables with gravy and guajillo adobo sauce. Thanksgiving pumpkin jelly for dessert and two glasses of red or white wine are included as well. Reservations are encouraged, call 2683 6446 for more information.
Thu Nov 28, 7pm; RMB220. Tequila Coyote's Mexican Food & Grill.
The fine folks at Woodpecker are offering a 5 to 6-kilogram turkey, fries, carrots, string beans, potato salad and mac and cheese for RMB788. Bring your friends and enjoy this feast which also includes a sparkling bottle of wine. Please reserve four days in advance! Call 139 2847 7010 for English service.
Thu Nov 28, RMB788. Woodpecker Smokehouse.
Thanksgiving dinner includes roast turkey, stuffing, cranberry sauce, mashed potatoes, gravy, glazed carrots, broccoli and cheese casserole, green beans with bacon, mac and cheese and pumpkin pie. This delicious meal is offered as a plated service at Futian and buffet at Sea World and includes free flow of drinks (beer, wine or soft drinks) from 5-9pm. RSVP at xpatsbar.com.
Thu Nov 28, 5pm, RMB150. See Xpats Bar & Brill locations.
---
For more helpful Shenzhen city guides, click here.

[Cover image via Unsplash]