If you hail from a part of the world where raccoons roam freely, you already know they'll eat just about anything – from the veggies in your garden to the rubbish in your bin. It should come as no surprise then that the raccoons at the Guangzhou Zoo are getting fat – and it's not the zoo staff who are to blame.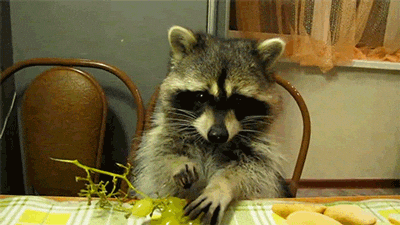 Image via Giphy
According to a report by GRT Radio, over the recent May Day holiday tourists visiting the Guangzhou Zoo were constantly tossing food into the raccoon enclosure. Unsurprisingly, the wily little critters were all too quick to scoff down the unexpected snacks.
What isn't unexpected, though, is that the raccoons have grown obese.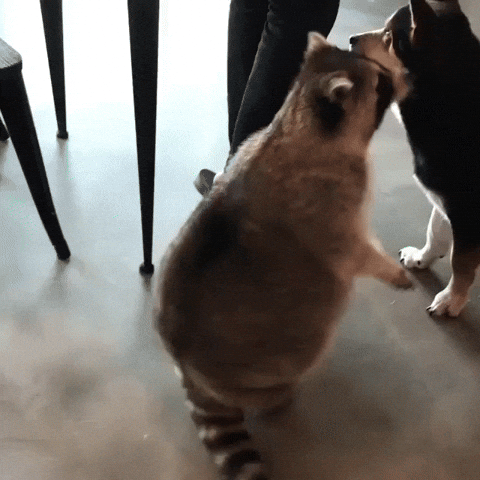 Image via Giphy
To combat the issue of raccoon obesity (a phrase we never thought we'd write), the zoo has put up informative posters and brought in a large number of volunteers to prevent visitors from over-feeding the animals. Additionally, the zoo's PA system has been broadcasting announcements reminding guests not to feed the raccoons.
"We're encouraging park visitors not to throw candy, bread and other junk food into the raccoon's exhibits. It happens because of the close proximity between the exhibit and the visitors," a staffer at the Guangzhou Zoo told us by phone, before adding that guests who feed the animals will be reprimanded. "We're making sure the raccoons get enough exercise, more activity and we're feeding them fish and meat among other nutritional foods."
When asked if the animals have been dropping pounds since the holiday foodpocalypse, the staffer had this to say: "I wouldn't say they're getting skinny by any means, but we're making progress."
Additional reporting by Ryan Gandolfo.
[Cover image via Pixabay]