The eighth and final season of Game of Thrones is quickly approaching, and while winter is long gone in Canton, the imaginary world of Westeros is gearing up for a frosty bloodbath unlike anything we've ever seen. And with only six episodes set to air for this final season, you won't want to miss a second of the action.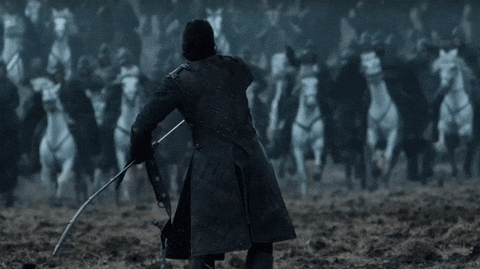 Image via Giphy
Based on the bestselling book series by George R.R. Martin, HBO's Game of Thrones series has gained a serious cult following since debuting in 2011. In China, the show has also become popular among TV viewers. In January, Chinese entertainment giant Tencent announced they had developed a simulation game about the intrepid world. On Weibo, one user has staked his claim to the comedic throne by creating hilarious renditions of GOT characters on the daily grind in the Middle Kingdom.


Image via @青红造了个白/Weibo
So if you're hoping to catch the season premiere while having a pint with fellow GOT lovers, here are a few venues to catch the beginning of the end:
Tune in to the final season with Game of Thrones viewings at 7.30pm and 9.30pm on Mondays at 13Factories. Whether you support House Stark or House Lannister, all can enjoy the Brewery Ommegang's exclusive Iron Throne Blonde Ale on tap.
On April 13, Mellow Pub will host a Game of Thrones launch party, with trivia and prizes up for grabs, including a bottle of Johnny White Walker among other fun goodies. The night will also crank things up a notch with some live music starting at 10pm. Meanwhile, Mellow Pub will host a viewing party at 8pm on Monday.
Every Wednesday at 7pm The Strand in Wuyangcun will be showing the latest Game of Thrones episode. From 6-8pm the local brewery's Session IPA will be available for RMB25.
See listing for The Strand (Wuyangcun).
---
If we missed your Game of Thrones viewing party, don't forget to post it to our events page!

[Cover image via @Pchome/Weibo]