When most people hear the word "Kazakhstan" they probably see this:
But in Taiwan, Hong Kong and China, this is what they see now:
Kazakhstan National Volleyball Team member Sabina Altynbekova has rocketed to instant stardom on the Chinese internet after she caught the eyes of onlookers at the Junior Asian Championship currently being held in Taipei.
The 17-year-old's Instagram followers shot up from under 300 to over 300,000 in the last 24 hours alone, and galleries, videos and virtual hagiographies of the young athlete have been popping up like strangely beguiling mushrooms on every single Chinese-language news source, social networking site and forum you can name.
As one such biography informs us, Sabina was born in 1996; has just begun university; is 182 centimeters tall; weighs 59 kilograms; and has 1.2 meter-long legs — that's 47 inches. These are the facts as we know them.
Previously portrayed in Western TV and film as a racist, sexist, primitive and anything-but-alluring society, the emergence of a new Kazakh celebrity to replace Sacha Baron-Cohen as the face of the country abroad (at least in East Asia) is undoubtedly a soft power putsch for the post-Soviet republic. Chinese web users are already asking for advise on how to move to Kazakhstan.
While the new "Kazakh cool" might not reach the same heights as the much-vaunted "Korean wave," the country could've just converted a whole lot of erstwhile rivals into new supporters of its 2022 Winter Olympics bid.
Sabina's story quickly rises to become most popular news story online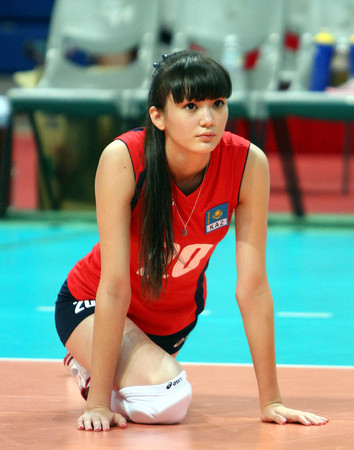 Sabina sparked abject panic online this morning when pictures emerged of her with a muscle-bound male friend, but she's since confirmed that she is in fact single.
This handy pocket-sized mini-bio confirms Sabina's vital stats: her measurements, birthday (born on 5 November, she's a Scorpio), background (her father was a skiing champ and her mother a star of track and field), Instagram account and — most importantly — relationship status.