A Beijing fashion designer was arrested after organizing a show that featured models wearing face masks and holding blood-stained umbrellas.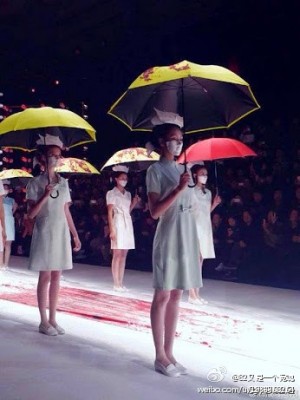 ​
Designer Liu Meng organized that "Yellow Umbrella" fashion show at Beijing Fashion Design Plaza 751 D-Park on October 30. More than 10 models walked the catwalk wearing utilitarian white nurses dresses, face masks and blood-stained umbrellas. Audience members were apparently stunned into silence.
The show was meant to raise awareness for the Occupy movement in Hong Kong. After the performance, Liu and the models were arrested by the show's security guards. The whereabouts of the Beijing fashion designer are still unknown.